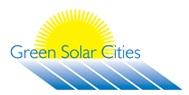 Details
EU contribution
€6,305,000
Description
Green Solar Cities offered a policy for cities focusing on a holistic approach, which includes good, energy-efficient construction and buildings installations leading to comfort and a good indoor climate, combined with the use of optimised energy supply systems together with a local contribution from renewable energy sources.
Green Solar Cities strategic objectives addressed:
Improving energy efficiency;
Increasing the use of renewable energy;
Reducing greenhouse gases and pollution emissions;
Enhancing competitiveness of the European industry;
Reducing the environmental impact of associated products and services;
Improving quality of life;
Implementing solar cities.
Project demonstration sites
Results
In Valby, 1198 kWp of PV and 840 m² of solar thermal collectors were integrated to match 81% of the yearly energy use in the new-built and renovated Concerto buildings comprising 67,143 m² housing, public & commercial buildings. This gives a high renewable energy contribution to electricity use for ventilation, domestic hot water and heating etc. As part of the renewable energy contribution in Valby a large 777 kWp PV solar plant for a waste water treatment plant has been realised as the largest PV system in the Nordic countries.
In Salzburg the plan was to demonstrate how to expand the use of solar heating to a higher level of the total need for heating and DHW, e.g. from 15% normally and up to 45% in the best new apartment building schemes. This has been done by combining solar collectors with an electric heat pump and buffer storage. At the same time they used district heating which is at least 50% based on biomass for the rest of the heating supply. For the Lehen area, with 287 housing units, a 2,000 m² solar thermal system was used, along with another 600 m² of solar thermal collectors for several other building projects. Moreover, 50 kWp of PV was also demonstrated.
Contact
Organisation
Kuben Urban Renewal Denmark
Related topics
Building aspects
Installed Renewable Energy Sources
photovoltaic