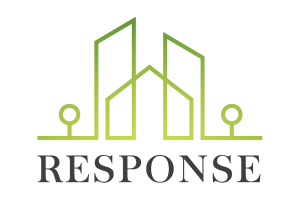 Details
EU contribution
€19,989,088
Project type
Lighthouse project
Description
RESPONSE supports the Lighthouse cities of Dijon (FR) and Turku (FI) and their Fellow cities Brussels (BE), Zaragoza (ES), Botosani (RO), Ptolemaida (GR), Gabrovo (BU) and Severodonetsk (UA) to facilitate them deliver positive energy blocks and districts.
Project demonstration sites
Objective
Through RESPONSE ,the two LHs will achieve a local RES penetration of 11.2 GWh/y, energy savings of 3,090 MWh/y and an emission reduction of 9, 799 tons CO2eq/y within their districts. To achieve this goal, RESPONSE demonstrates 10 Integrated Solutions (ISs), comprising of 86 innovative elements (technologies, tools, methods), that are being monitored with specific impact metrics (KPIs). It attracts the interest of various stakeholders by generating innovative business models enabling the upscale and replication of the solutions forming a validated roadmap for sustainable cities across Europe and beyond.
RESPONSE adopts an energy transition strategy, which includes 5 Transformation Axes (TAs), encompassing the 10 ISs. TA#1 focuses on transforming existing and new building stock into Energy Positive and Smart-ready. TA#2 focuses on the decarbonization of the electricity grid and the district heating/cooling systems, supporting fossil-based regions in transition and the development of energy communities. TA#3 proposes grid flexibility strategies and novel storage systems for optimizing energy flows, maximize self-consumption and reduce grid stress. TA#4 links existing CIPs with apps and other digital infrastructure to enable digitalisation of services and connected city ecosystems, integrating also smart e- Mobility to promote the decarbonisation of the mobility sector. TA#5 offers interdisciplinary citizen engagement and co-creation practices putting citizen at the forefront of shaping the cities they live in and towards the development of each city's 2050 own bold city-vision. Special focus is given to creating resilient and safe cities increasing quality of life and lowering the impacts of climate change.
The expected impact of RESPONSE is:
1. Meeting EU climate mitigation and adaptation goals and national and/or local energy, air
quality and climate targets, as relevant
2. Increased share of renewable energies, waste heat recovery and storage solutions (including batteries) and their integration into the energy system
3. Lead the way towards wide scale rollout of Positive Energy Districts – The higher the replicability of the solutions across Europe, the better
4. Significantly improved energy efficiency, district level optimized self-consumption, reduced curtailment
5. Increased uptake of e-mobility solutions
6. Improved air quality
Contact
Name
Coordinator: David Goujon, david.goujon@eifer.org | Co-Coordinator: Monjur Murshed, monjur.murshed@eifer.org
Organisation
EIFER – European Institute for Energy Research