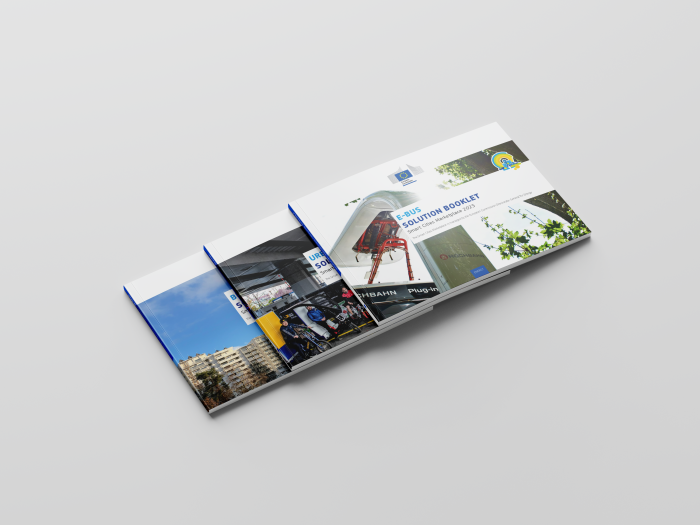 We are thrilled to announce that the Solution Booklets on three key topics are now available in French and German translations. These booklets provide valuable insights into sustainable solutions and replicable practices for various challenges faced by cities and communities. The translated versions aim to reach a broader audience and promote knowledge sharing across Europe.
Solution Booklet E-Bus: This booklet explores the replication potential and barriers of electric buses from technical, financial, social, and governance perspectives. It draws upon extensive desk research, expert interviews, and experiences from EU/national/regional/local projects in different European countries. Electric buses currently account for 6.1% of new bus sales in Europe, indicating a growing market that aligns with the transition towards a net-zero economy.

Solution Booklet Building Envelope Retrofit: Focusing on building envelope retrofit, this booklet delves into the technical, financial, social, and governance aspects of this critical area. It discusses implementation barriers and scaling opportunities based on experiences from diverse European projects. The EU's support for retrofit initiatives has led to remarkable energy savings, with nearly 50 retrofit demonstrators achieving savings of 50-75% of the total final energy demand.

Solution Booklet Urban Freight Logistics: Addressing the challenges of urban freight logistics, this booklet aims to improve last-time logistic services for citizens, boost local economic development through local logistics businesses, and minimize the negative environmental impact of goods delivery in urban areas. It aligns with the European Commission's vision, as outlined in the White Paper "Zero emission urban logistics in major urban centres by 2030," which emphasizes sustainable solutions.
By providing translations of these solution booklets, we aim to facilitate knowledge dissemination and encourage cities and communities to adopt sustainable practices. The availability of French and German versions will enable a wider audience to access valuable information and best practices. Together, let's build a greener and more sustainable future for all!
Useful Links