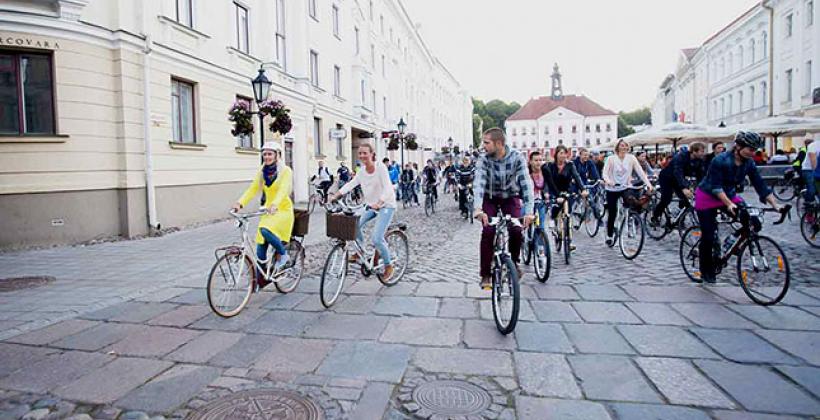 Description
Often called the intellectual capital of Estonia, Tartu is a town of intellectuals, scientists, creatives and students, making it a hotbed for creative and scientific culture. Estonia's most renowned university, the University of Tartu, hosts nearly 14 000 students, which makes up a good proportion of the whole population of the town – a total of 100 000. Also known as the city of good thoughts, Tartu already has a good track record as a smart city. It has been developing its e-services and paperless administration practices for decades and was one of the first in the world to implement many smart solutions – m-parking in 2000, public Wi-Fi throughout the city in 2000, local e-elections in 2005, city mobile applications in 2006, digital signatures in 2007, a fully electric taxi service in 2012, and participative budgeting in 2013, to name a few. Tartu ranks 15th in the European Smart Cities benchmark for smart people and joined the Covenant of Mayors in 2014 with the aim of promoting energy-efficient solutions, the use of renewable energy and citizens' awareness of environmental issues.
The selected pilot area for the SmartEnCity project spreads over 0.39 km2 in the city centre and is surrounded by two streets in the so-called Khrushchev banks quarter. The demonstration activities include efficient renovation of buildings, innovative solutions for district heating, innovative solutions for transport, innovative solutions for street lighting, renewable energy, installation of sensors (noise, air pollution, temperature and humidity, as well as monitoring road conditions), and citizens' involvement in planning and implementation.
Demo Site Expected Impact
* Detailed information regarding the technical and financial performance will be available at a later stage.
With the SmartEnCity project, Tartu aims to:
demonstrate a comprehensive approach to retrofitting out-dated panel buildings according to near zero-energy standards;
boost the liveability of the town through intelligent street lighting, biogas buses, electric car and bike rentals, as well as charging stations and many ICT solutions;
engage the citizens in creating a high-quality living environment that inspires environmentally aware decisions and new patterns of behaviour.
Technologies
Energy
For more detailed information, please also visit the SmartEnCity website.
The solutions demonstrated in Tartu include:
Energy efficiency in buildings
Retrofitting the building envelope

900 Khrushchev-era apartments, i.e. 22 buildings will be renovated into smart, energy class A buildings
Energy systems integration
Smart street lighting

LEDs and sensor-based lighting

District heating and cooling

Waste heat recovery
Mobility & Transport
Public electric and regular bike sharing system

Installation of new charging points and bike docks

Gas buses in public transport

Building up a new gas bus fleet

Recycling old electric vehicle batteries
ICT
Smart home solution

All retrofitted apartments will have a state-of-the-art smart home solution that allows to monitor energy consumption and adjust ventilation, temperature, etc. settings

Smart district heating and cooling grids - demand
Citizen Engagement
Lecture series "Planning an energy-efficient city"
Art solutions for all pilot area buildings
Study on attitudes towards technologies and environment
Social innovation experiments
Community building through regular meet-ups, events and community meetings
Contact
Organisation
City of Tartu
Email
Raimond.Tamm@raad.tartu.ee