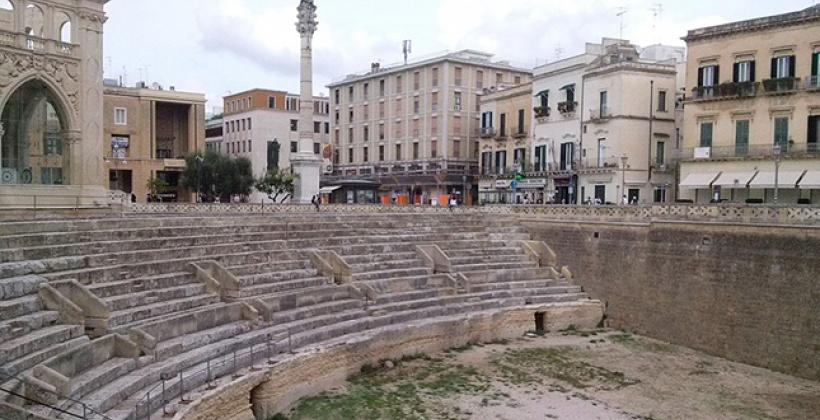 Description
The NEED4B pilot site in Lecce (Italy) is located in a central and strategic part of the city, a few metres away from the historic centre and in front of a recreational space for students. It is a mixed-use building composed of four floors above ground and three floors underground. The first floor underground and the ground floor consist of shops and commercial spaces, while the first, second and third floors above ground are for offices. The building is surrounded by green spaces, a private parking area for the offices, and a bus stop.
One of the main concerns in NEED4B was reducing the cooling demand in those buildings situated in the Mediterranean area. This demo site located in the south of Italy provides the opportunity to address this topic and provide an example of best practices in terms of energy efficiency during the warm seasons. Lecce is one of the most visited cities in the south of Italy. The urban area where the pilot is located has a large historical and architectonical value and it is currently under refurbishment. This enhances the visibility of the zone, where tradition meets innovation, and both the new building and the retrofitted ones represent the icons of energy-efficient technology and research.
The building has a high replication potential since it represents a high energy-efficient building with structural and technical characteristics that can be easily transferred and adapted to different built environment contexts. In this case, the new building aims to be perfectly integrated in a historic district, but its structural and technical aspects might be also reproduced in a new development area of the city.
Demo Site Expected Impact
*Information regarding the technical and financial performance will be available at a later stage.
The demonstration site in Lecce includes a multifunctional building with a total surface of 5214 m2. According to the monitoring data the primary energy consumption is 45 kWh/m2/yr, where the reference (normal practice) is 81 kWh/m2yr, thus reducing the energy consumtion of the building by 187 MWh/yr.
Technologies
Energy
*Information regarding the technical and financial performance will be available at a later stage.
The implemented measures include:
Energy efficiency in buildings
Retrofitting the building envelope

The envelope integrated advanced insulation, double skin coating, and high-performance glazing
The main frame was made of steel-reinforced concrete, while the envelope was made of components that were assembled on site

Building integrated renewable energy sources

Photovoltaics (on the roof)

Heat pumps

Heating and cooling was provided by a highly efficient heat pump (COP 4 for heating and COP 3.5 for cooling)
ICT
Building energy management system

All the available data were uploaded and managed using a building information modelling tool in order to coordinate the various phases in the most efficient way. Future data will be uploaded as it becomes available.
Building aspects
Building Energy Services
heating and cooling and DHW
Building Energy Services
lighting and appliances
Installed Renewable Energy Sources
photovoltaic
Technology used to supply the buildings
electrical equipment
Technology used to supply the buildings
heat pump: reversible