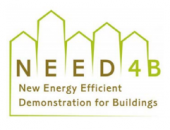 Details
EU contribution
€5,681,652
Funding programme
FP7
Topic EeB.ENERGY.2011.8.1-1: Demonstration of very low energy new buildings
Description
NEED4B is a collaborative project that will demonstrate cost-effective and energy efficient technologies and methods for the design and construction of very low-energy new buildings. A series of pilots located in different European climates will show how to achieve a primary energy consumption lower than 60 kWh/m2/year in the buildings. 
Project demonstration sites
Objective
The overall objective of the project is to develop an open and easily replicable methodology for designing, constructing, and operating new low-energy buildings, aiming at a large market uptake.
The NEED4B methodology will be validated and refined by a strong demonstration programme, envisaging the construction of 27,000 m2, spread among five demo sites covering different climatic zones, building types and uses, which will ensure the replicability of the project results and guarantee their impact on the construction sector.
All the buildings have a common target of achieving an energy consumption lower than 60 kWh/m2/year (in terms of primary energy) representing a 65% reduction compared to current levels. This target will be possible thanks to the selection and integration of the most suitable set of innovative and cost-effective energy efficient solutions and technologies for each of the buildings, addressing all areas of the building design: structure and envelope, HVAC, integration of RES, water and waste management and control systems.
Documents
Organisation
Fundación CIRCE
Email
mizquierdo@fcirce.es
Name
Maria Izquierdo Sanz