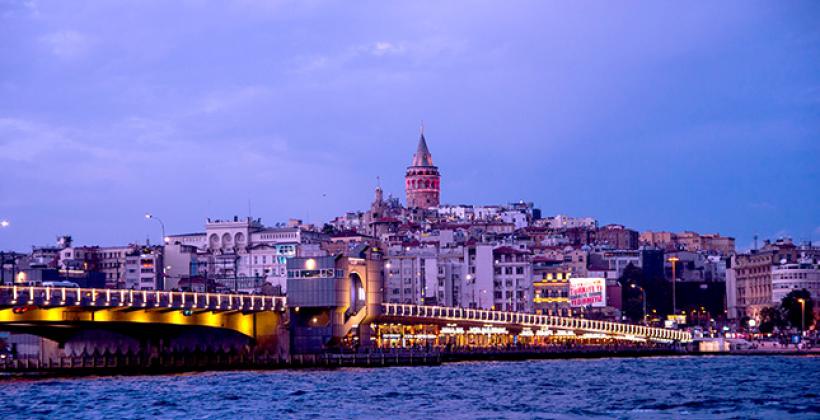 Description
The Turkish demonstration site of NEED4B is on the Özyeğin  University campus, located in Nisantepe, Istanbul, north-west Turkey. The Nisantepe region is a newly developed residential site situated very close to the residential and financial region of Ümraniye. The building in focus is in part of the campus buildings that host the School of Languages (ScOLa). The total building area is 17 756 m2 spread across seven levels. It has a south-north direction and connects the campus valley and the quad level with an internal void situated in the south facade, which acts as a buffer zone to reduce the heating and cooling capacity.
The master plan and architectural design work of the campus started in the last quarter of 2009 and until now several buildings have been constructed in different phases. The whole campus was designed and constructed with the aim of becoming an example of sustainability and energy efficiency. The university aims to provide hands-on education to its students by giving them facilities that teach by example. All the campus buildings are candidates for the internationally known LEED (Leadership in Energy & Environmental Design) certification, but the new faculty building's goal is to go a step further in energy efficiency issues.
NEED4B took advantage of the big impact that this demonstration case had on students attending classes there, making them more conscious and knowledgeable about green buildings and the environment. Another important issue is that energy efficiency is monitored and studied by the students very closely. This is a big opportunity for their education, as they can learn first-hand about the real performance of an energy-efficient building.
The Turkish demo site takes part in the Zero Istanbul 2050 initiative. This initiative is coordinated by Özyeğin University and increases the visibility of the demo site, while facilitating the spread of NEED4B results.
Demo Site Expected Impact
*Information regarding the technical and financial performance will be available at a later stage.
The demonstration building has a total surface of 17 756 m2. It integrates photovoltaic panels designed to generate 160 000 kWh/year, and solar thermal panels. According to the design data, the final energy demand of the building is to be reduced to 35 kWh/m2/yr, and the primary energy demand is to be reduced by 621 MWh per year.
Technologies
Energy
*Information regarding the technical and financial performance will be available at a later stage.
The implemented technologies include:
Energy efficiency in buildings
Retrofitting the building envelope

Reinforced concrete frame construction
Optimised solar shading with perforated horizontal louvres in the south and partially in the east facades, and vertical perforated aluminium shades in the west and partially east facades
Internal curtains where necessary

Building integrated renewable energy sources
Energy systems integration
Thermal collectors
Near-to-surface geothermal energy

Earth tubes used for partial cooling/heating
ICT
Building energy management system

The building has a multidimensional energy performance monitoring, visualisation and optimisation platform
Contact
Organisation
Özyegin University
Email
pinar.menguc@ozyegin.edu.tr
Building aspects
Building Energy Services
heating and cooling
Building Energy Services
heating and cooling and DHW
Building Energy Services
other please specify
Installed Renewable Energy Sources
photovoltaic
Technology used to supply the buildings
boiler
Technology used to supply the buildings
other please specify