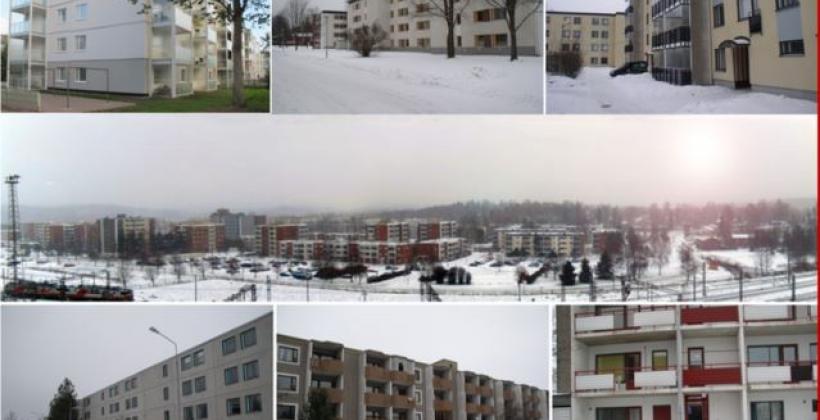 Description
Peltosaari is an example of unfortunate development of a neighbourhood. Although it locates at excellent public transport connections to the capital area and other cities, it has lost its position as an appealing and attractive place to live.
The buildings represent typical concrete apartment buildings of 1970's and 1980's.Most of the buildings need refurbishment. The privately-owned housing companies have already renovated facades and roofs.
The aim of the technical development was to find the most efficient technologies to reduce the heating energy demand of the buildings at district level, i.e., technologies that are repeatable and can be applied widely and economically in the building stock. The energy efficient refurbishment can reduce the space heating demand by 50 - 70%. Several buildings in Peltosaari have already been refurbished, including one passive house refurbishment with preassembled ventilation systems with heat recovery in prefabricated façade elements.
The solar potential in the district is very high especially in the eastern part of the district as the height of the buildings is uniform and neighbouring buildings do not shadow the roofs. There is plenty of space on roofs and facades to exploit possibilities of renewable energy.
Demo Site Expected Impact
All projects are in development stage. This is only ideas how to minimize energy consumption, introduce RES technologies.
The main objective of MODER is to increase business of engineering companies, energy managers and consultants in supporting municipalities and building owners in European and global markets for the refurbishment of buildings at district level. Several improvements are required to reach this objective: Exceeding barriers concerning the reduction of energy demand of buildings, new tools that enable the assessment and design of refurbishment and new business and process models for efficiently execute the refurbishment of buildings at district level. Technical objectives of MODER are to develop, demonstrate and mobilize tools, services, process models and business models
Contact
Organisation
Sweco Finland Ltd.
Email
jyri.nieminen@sweco.fi