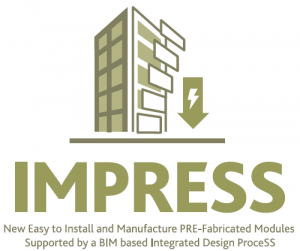 Details
EU contribution
€4,552,465
Funding programme
H2020
EE 1 – 2014: Manufacturing of prefabricated modules for renovation of buildings,
Description
IMPRESS leveraged the potential of prefabrication by developing a new range of easy to install panels, which reduced energy demand while preserving and/or improving building aesthetics.
Three prefabricated panels were developed, both for re-cladding and over-cladding, together with nano/micro particle based coatings, to achieve anti-corrosion and ageing resistance, improved solar reflectance and anti-vandalism properties. To produce the panels, an innovative manufacturing process was created that included Reconfigurable Moulding, 3D laser scanning and 3D printing technologies.
A new Iterative Design Methodology was developed, incorporating all stages of the Design-Construct-Install-Operate process, integrated with a cloud based BIM database. A Decision Support Software helped the end user to choose the most suitable renovation option. 
Project demonstration sites
City
Drobeta Turnu Severin, Romania
Fellow cities
Drobeta Turnu Severin, Romania
Results
The project objectives were:
Reducing primary energy consumption by 50%;
Improving thermal performance and optimising light radiation by at least 30%;
Improving precision of formworks for irregular shapes by 50%;
Reducing installation time of prefab panels by more than 30%;
Validate the performance of the prefabricated modules on the 2 demo sites over at least 12 month;
Allowing for an RoI of < 10 years.
The results were demonstrated on two buildings where the final as-built product performance was validated against the initial design.
Contact
Organisation
Integrated Environmental Solutions (IES)
Email
nick.purshouse@iesve.com