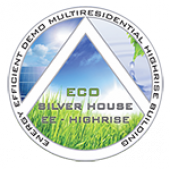 Details
EU contribution
€2,193,504
Funding programme
FP7
Topic EeB.ENERGY.2011.8.1-1: Demonstration of very low energy new buildings
Description
The overall objective of the EE-HIGHRISE project was to demonstrate and validate new technologies, concepts, and systems used, in order to test and assess the technological and economic feasibility of innovative energy solutions in the high rise demo buildings in contributing to the EU energy and climate change policy. The project used the Eco Silver House in Ljubljana (Slovenia) as a demonstration project.
The fundamental principles of sustainable development of a high rise building were reflected in EE-HIIGHRISE through comprehensive planning of energy efficiency savings, along with renewable energy sources, perfect thermal insulation, wall soundproofing, a high-quality air conditioning system, sun protection, extremely rational air-conditioning appliances, intelligent control and management of electric and mechanical devices, machinery and tools, ecological materials, use of rainwater, micro solar power station on the roof, green roof etc.
Project demonstration sites
Results
The Eco Silver House was designed to fulfil the requirement for the passive standard (PHPP07) with the consumption of 10 kWh/ m2 energy for heating per year. The most important innovations of the EE-HIIGHRISE are the integration of the building envelope – HVAC system, intelligent integrated control system and renewable energy sources, fulfilling the passive standard for a high rise building with 11 floors and 128 residential units.
Within the project timeline an interactive model of the Eco Silver House was created as a virtual building and made available online. It enables stakeholders in sustainable building to visit the Eco Silver House demonstration building via internet for free. It gives extensive information from the design, construction and operation stage of the Eco Silver House, for different sustainable systems, processes, outcomes, knowledge and practices gathered within the EE-HIGHRISE project and construction of the Eco Silver House. 
Contact
Organisation
AKROPOLA d.o.o.
Related topics
Building aspects
Building Energy Services
cooling (only)
Building Energy Services
heating and DHW
Installed Renewable Energy Sources
photovoltaic - building integrated
Technology used to supply the buildings
district cooling (DC) network
Technology used to supply the buildings
district heating (DH) network