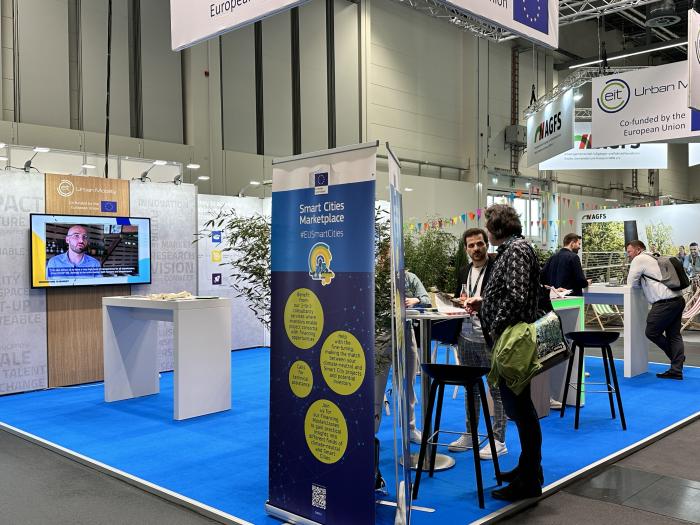 Smart Cities Marketplace (SCM) actively participated in the polisMOBILITY conference held in Cologne, Germany from 24th to 26th May 2023, in collaboration with its consortium partner, EIT Urban Mobility. The main focus of the event was on the four pillars: Engage, Explore, Shape, and Deal.
During the conference, SCM showcased its presence as a co-exhibitor at the EIT Urban Mobility booth. The presence of SCM was acknowledged in the official fair program, as well as in the EIT Urban Mobility program. A highlight of the event was an open-stage presentation by the Matchmaking Coordinator, Luigi Lo Piparo discussing the role of the Smart Cities Marketplace in financing smart city ideas. Additionally, SCM conducted a workshop titled "How Can the Smart Cities Marketplace Help You Finance Your City Project?" The workshop attracted interested participants, including representatives from the City of Lindau, investor DWS (linked to the European Energy Efficiency Fund), mobility solution provider VePa Vertical Parking GmbH and the SCM team itself.
Furthermore, SCM was officially presented as a complementary initiative during the "Networking with the Deutsche Städtetag" session, led by EIT Urban Mobility. This further strengthened the collaboration and cooperation between SCM and its partners.
Several key highlights emerged from the event. First, there was a valid utilisation of synergies between SCM and EIT Urban Mobility, as both partners actively promoted each other on multiple occasions during the three-day event. The conference revealed a significant demand for cooperation in the field of sustainable mobility, involving cities, technical developers, and investors. SCM showcased its ability to organise and facilitate such collaborations, ultimately translating them into tangible investments.
One noteworthy outcome was the successful implementation of the "Go local!" approach. SCM tailored its promotion at the national level, incorporating the local language, and engaged with a promising operational level of cities, particularly small and medium-sized ones. This approach allowed SCM to interact with technical and political representatives, providing a more practical perspective on the benefits that SCM brings to accelerate ongoing city efforts.
Concrete examples of replicable projects proved to be effective in sparking interest among city representatives, investors, and technical developers of sustainable solutions. By showcasing project concepts that are already receiving SCM's matchmaking services, SCM fostered emulation and generated increased interest.
A crucial aspect emphasised during the event was the need to deliver a clear message to the target audience regarding how SCM can support them, while also distinguishing itself from other smart city initiatives launched by the European Commission. Identifying areas of complementarity and cooperation, and avoiding internal competition, is essential to ensure a cohesive and efficient approach.
In terms of statistics, the polisMOBILITY conference hosted a total of 160 exhibitors and partners, featuring 100 sessions with the City Stage in both German and English, along with over 200 speakers.
SCM's presence at the event resulted in approximately 80 general info exchanges with participants. Moreover, SCM conducted 15 in-depth matchmaking meetings with individuals and entities interested in applying for or being involved in SCM's support services. These entities included cities, consortia, technical developers, and investors. Some notable participants in the matchmaking meetings were representatives from the City of Linz, City of Aachen, City of Gladbeck, City of Bochum, City of Boppard, Smartparking solutions by Intercomp, smartmicro (connected to the City of Braunschweig), City of Lindau, Deutscher Städte- und Gemeindebund.