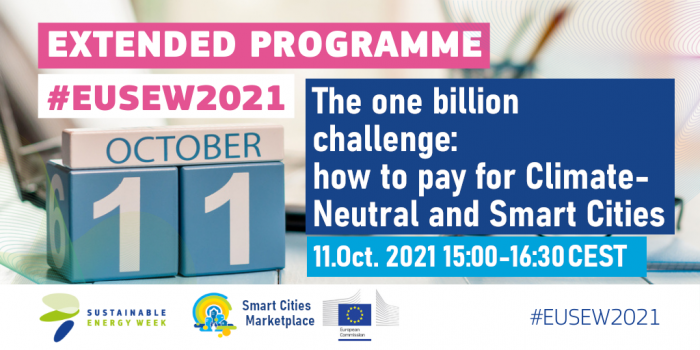 That no sector can achieve climate-neutrality alone was clear to the participants in the Smart Cities Marketplace's session 'The one billion Euro challenge: how to pay for Climate-Neutral and Smart Cities - EUSEW Extended Programme' that took place as part of the extended programme of the EU Sustainable Energy Week 2021. The title of the session was in reference to an analysis carried out for the European Commission's Mission on Climate-Neutral and Smart Cities on how much investment was needed in a city of 100.000 to become climate-neutral. 
Representatives from four different domains, all needed for cities to become climate neutral (mobility, heating and cooling, energy and buildings), were invited to share their input on how their work could help point to that future. 
Presenting a perspective on mobility was Maria Kamargianni, Coordinator of the HARMONY Project under the CIVITAS Initiative and Professor of Transport Systems Innovation & Sustainability at University College London.
"It's very important when you design something that can achieve net-zero to do it right from the very beginning and this is our objective," she said and pointed to the Harmony tools that others can use to set up sustainable urban mobility plans (SUMPs). 
Following that, Magnus Andersson, Financing Expert at the Celsius Initiative and partner at IMCG - Impact Management Consulting Group, focused on heating and cooling and pointed to two key recommendations, that Investors shouldn't overestimate the risks and that project owners must align project ideas with investor expectations, before concluding:
"You need to have standardisation between the investor community and the project owner community because with standardisation it will be easier to make the assessment of the project, it will take less time to get the funding and with standardisation, you will also reduce the costs," Magnus Andersson said before pointing out that help was available, for example through the Smart Cities Marketplace. 
Covering the domain of Energy was Jessica Stromback, CEO of Joule Assets — a part of the Marketplace Investor Network. She shared a case from the US on 'community choice aggregation', which allows municipalities to be the 'utility of last resort' and choose sustainable energy sources for those residents not taking an active choice of energy provider. This regulation was introduced in New York State in 2015.
"There have been 3 million MWh of renewable energy contracted as of the end of 2020, from 51 municipalities only, and that has saved New York State 770,000 tonnes of carbon dioxide," Jessica Stromback explained. 
Finally, the specific domain of buildings was covered by Sergio Olivero, Leader of the "Deep Retrofitting Initiative" of the Smart Cities Marketplace, from the Energy Center of the Politecnico di Torino. 
"In Italy today, there is a huge potential for the reduction of CO2 emissions and thermal bills by the use of electricity to heat and cool buildings," Sergio Olivero said, before pointing to the Italian Energheia Initiative seeking a smart retrofitting 100 houses cutting both electricity and heating bills. 
A lively discussion took place with one key takeaway being the fact, that all four domains represented in the session had to work together. This was, perhaps unsurprisingly, the favoured response in a survey of the audience with either the individual domains or all combined where the possibilities, and the event's moderator, Georg Houben, Policy Officer, DG Energy, Unit B1, Coordinator for the Smart Cities Marketplace, agreed.
"That is very much in line with the experience we have collected so far in the smart cities and communities context. We do not necessarily look at one solution only but integrate them in a wider plan and vision" Georg Houben said. 
 
Useful Links
Initiative
Related topics