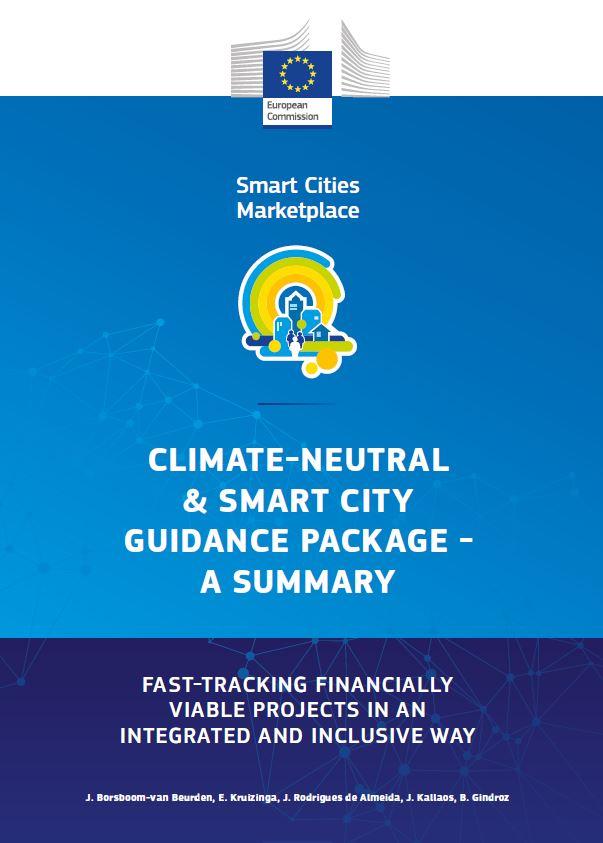 This document aims to help fast-tracking financially viable smart climate-neutral urban projects in an integrated and inclusive way. It provides a roadmap for this purpose, which summarises the different stages of developing a coherent urban development process and the different steps of each stage providing checklists. It also advises on planning various accelerating actions that that can help you to achieve more impact locally through replication and scaling up of the smart climate-neutral city solutions later. It is based on the original self-help tool Smart City Guidance Package (SCGP) and elaborates the financial aspects of the different stages and steps.
For whom?
This summary is primarily meant for city administrations, local politicians (Mayors, Vice-Mayors, Councillors and their staff), directors of unit, smart city project managers and other local authorities, e.g. public transport, housing, utilities or waste management. However, it can also be very useful to all partners in the cities' ecosystem, such as businesses (energy network and transport operators, real estate developers and facility managers, solution providers), financial institutions such as banks, pension funds or private investment funds, and civil society, e.g. housing associations, citizens and local companies, Non-Governmental Organisations (NGOs).
How does it work?
This summary booklet is meant as an introductory self-help guide to developing smart cities strategies and projects from the vision stage until replication and upscaling. The process recommended here is based on various sources of information, such as experiences of climate-neutral and smart city project coordinators and partners, publications of research and innovation projects, interviews, the european energy award (eea), JPI Urban Europe-funded smart city projects and ISO standards. You can use this description to set up a process in your organisation which takes an integrated and inclusive approach at heart, yet pays enough attention to financial details. For each stage and step, we kindly invite you to fill in the actions you would like to take as an organisation. We give you suggestions for actions, tools and standards which might be useful for you in doing so. By following the recommended steps, you can develop your climate-neutral and smart city strategy and project(s) and present your project(s) to financiers and funding organisations, or use the matchmaking facility of the Smart Cities Marketplace.
How can I use it?
If your city has an overall long-term strategy or vision, you can use this summary booklet to concretise this strategy in the planning and implementation of smart city projects. Likewise, you can use it to realise a Sustainable Energy and Climate Action Plan (SECAP) or substantiate the UN Sustainable Development Goals (SDGs). If such a long-term strategy or vision is missing, you can use this method to develop it, so your climate-neutral and smart city project is properly anchored in your city's or companies' long-term vision. Lastly, you can also use it to develop your project from scratch.
Get cracking
The Smart City Guidance Package works with seven consecutive stages. These stages are based upon the Plan-Do-Check-Act concept, which is extended with a couple of stages which are deemed relevant for smart climate-neutral city plans: VISION to develop or adjust the long-term strategy, DECIDE & COMMIT to explicitly consent to preparing the plan, and REPLICATE & SCALE UP to plan already for replication from the start. The order and description of the content of each stage are based on common experiences of cities participating in the european energy award, lessons learned in the CONCERTO Programme, and material from interviews with managers of Framework Programme 7 and Horizon 2020 smart city projects. Finally, the stages consider that the UN SDGs have been adopted by the European Commission (EC) and are therefore relevant to European smart city roadmaps as well. With the term "cities", city councils and city administrations are meant in this context. The term key stakeholders refers to those stakeholders crucial for integrated planning and implementation of the smart city roadmap, such as citizens, transport and energy operators, and other businesses such as ICT companies, start-ups, local highly specialised SMEs, etc. Throughout the process, attention to keeping the engagement of all stakeholders and citizens must be ensured, through communication and in-depth participation, co-creation and co-realisation.
You can find the booklet here.