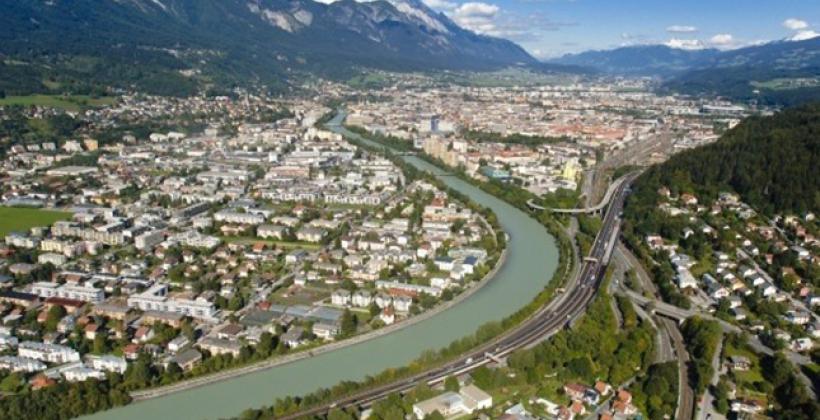 Description
The city of Innsbruck in Austria (120 000 inhabitants) defined its 2025 Energy Plan back in 2009. In this context, and as part of the SINFONIA project, the city has selected its eastern district to demonstrate the large-scale implementation of energy-efficient measures, with the objective of achieving on average 40 % to 50 % primary energy savings in the demo sites, and to increase by at least 30 % the share of renewables in the district's energy mix.
Demo Site Expected Impact
* Further information regarding the technical and financial performance will be available at a later stage.
As a result of the energy efficiency, the final energy consumption in Innsbruck will be reduced from 99 kWh/m²/yr (business as ususal) to 47 kWh/m²/yr, according to design data. This amounts to 535 MWh/yr of final energy savings for the two buildings reported by the project so far. The total primary energy savings go up to 607 MWh/yr while the CO2 reduction is 164 tonnes every year. These positive environmental values represent the expected results of the project and are likely to increase when more information is reported.
Technologies
Energy
* Information regarding the economic performance will be available at a later stage.
The implemented measures in Innsbruck are:
Energy efficiency in buildings
Retrofitting the building envelope

66 000 m² of residential and public buildings from the period 1930 to 1980 are to be retrofitted to dramatically improve indoor quality and energy performance, and reduce the final energy demand by up to 80 %

Building integrated renewable energy sources

Integration of renewable energy sources on-site (photovoltaic, solar thermal)

Heat pumps
Energy systems integration
District heating and cooling

The district heating network is to be extended and optimised to increase the use of renewable energy sources by 95 % and reduce the use of fossil fuel by 22 %. Solar energy and innovative biomass gasification are to be integrated into the network.

Polygeneration
Waste heat recovery

Recovery of heat/cold from local industries, wastewater and geothermal heat from the Brenner Tunnel
ICT
Smart electricity grid

Smart grids and smart home applications are planned to combine demand and supply-side measures to reduce the overall electricity demand by 3 %. Buildings are to be transformed to smart urban model houses. Measures include the smart load control for refrigerators, water boilers and heat pumps, and the involvement of customers.
Contact
Organisation
Standortagentur Tirol
Email
sinfonia@standort-tirol.at
Building aspects
Building Energy Services
cooling and DHW
Building Energy Services
DHW (only)
Building Energy Services
heating (only)
Building Energy Services
heating and DHW
Building Energy Services
lighting and appliances
Installed Renewable Energy Sources
photovoltaic
Technology used to supply the buildings
condensing boiler
Technology used to supply the buildings
district heating (DH) network
Technology used to supply the buildings
electrical equipment
Technology used to supply the buildings
electrical heating system
Technology used to supply the buildings
stove
Energy Carriers
Domestic gas - grid-bound
Energy Systems Types
Infrastructure & System Integration
DHC extension
Sustainable Generation
Boiler
Sustainable Generation
Co-generation
Sustainable Generation
Waste heat
Thematic Field
Energy System(s) Integration
Information and Communication Technologies