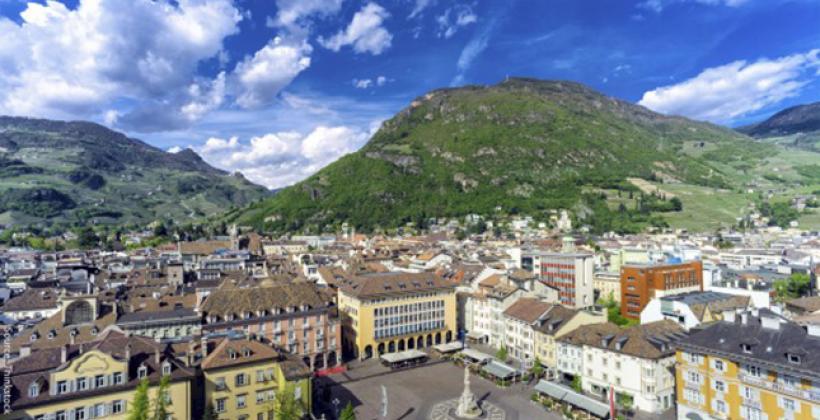 Description
Since 2005, the Italian city of Bolzano (100 000 inhabitants) has developed an ambitious investment plan for large-scale urban refurbishment in collaboration with both public and private stakeholders. The work undertaken in the SINFONIA project is part of this plan, and aims to achieve 40 % to 50 % primary energy savings in the demo sites, and to increase the share of renewables in the district of Bolzano SW (south-west) by 20 %.
Within SINFONIA, the city of Bolzano and the Institute for social housing (IPES) aim to refurbish  9 buildings in the Don Bosco and Oltrisarco-Aslago districts. A total of 345 social housing apartments from the 1950s to the 1970s covering a surface area of approximately 31 000 m² are to be renovated to consume less energy and improve the comfort of their tenants, but also to enhance the neighbourhoods where they are located. The project includes renovation of the building's envelope, installation of power plants running on renewable energy sources to supply the building's demand, new windows and doors,  a mechanically controlled ventilation system as well as district heating system optimidation and improved energy distribution control.
Demo Site Expected Impact
* Further information regarding the technical and financial performance will be available at a later stage.
As a result of the energy efficiency, the final energy consumption in the buildings (considering heating, ventilation, lighting, domestic hot water and renewable energy production) that are part of the project SINFONIA in Bolzano will be reduced from 189 kWh/m²/yr (business as ususal) to 38 kWh/m²/yr. This amounts to 4508 MWh/yr of final energy savings. The total primary energy savings for the project go up to 5879 MWh/a while the CO2 reduction is 1462 tonnes every year.
Technologies
Energy
* Information regarding the economic performance will be available at a later stage.
The implemented measures in Bolzano are:
Energy efficiency in buildings
Retrofitting the building envelope

31 000 m² of social housing from the 1950s to the 1970s are to be retrofitted to achieve high-energy performance and improved interior comfort while ensuring cost-effectiveness and minimal impact on tenants.

Building integrated renewable energy sources

Integration of renewable energy sources for electricity, heating and domestic hot water
Energy systems integration
Cogeneration (CHP)

Organic Rankine cycle with biomass

District heating and cooling

The district heating network will be extended and optimised to reduce both the CO2 and the nitrogen equivalent emissions.

Waste heat recovery

A study will be carried out on the recovery of wasted energy from the local industrial park.
Mobility & Transport
Clean fuels and fuelling infrastructure

Recharge points for vehicles and bicycles
ICT
Real time monitoring and forecasting of peak loads and energy demand
Smart electricity grid

Bolzano will implement an Urban Service-Oriented Sensible Grid (USOS-grid) system in the south-west district for improved energy distribution control

Smart street lighting

Smart retrofitting of the public lighting system
Contact
Email
giovanni.blandino@eurac.edu
Building aspects
Building Energy Services
heating and DHW
Installed Renewable Energy Sources
photovoltaic
Installed Renewable Energy Sources
solar thermal collectors
Technology used to supply the buildings
boiler
Technology used to supply the buildings
district heating (DH) network
Technology used to supply the buildings
heat pump: compression
Energy Carriers
Domestic gas - grid-bound
Energy Systems Types
Sustainable Generation
Co-generation
Thematic Field
Energy System(s) Integration
Information and Communication Technologies