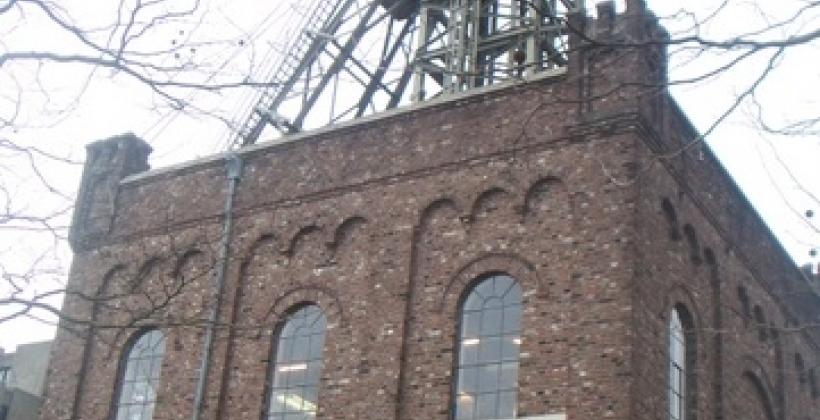 Description
Through its participation in the CONCERTO project, the Dutch city of Heerlen uses heat energy stored in old mineshafts for the heating and cooling of buildings.
The last miner left the mines in Heerlen in 1976. Since then the former mineshafts have been filled with geothermally heated ground water, which has a different temperature at different depths and can therefore be used for both - heating and cooling.
A new district heating grid uses water at a constant temperature of 22o C from the mines, used water is pumped back into the mineshafts. No further increase in the temperature of the mine water is needed. The water runs through an embedded hydraulic piping system under the floor of the Heerlerheide Centrum, a new multifunctional complex for residential use, which also contains a library, a supermarket, a conference room and a café.
Solar cells will also be integrated into the buildings, in window shades that will move according to the position of the sun.
Site facts and figures
Estimated population involved: 3,500
Approx. geographical area coverage: Information will follow
Approx. energy saving: 116 MWh/y electricity and 7,118 MWh/y heating
Approx. energy from RES: 3,399 MWh/y electricity and 13,885 MWh/y heating
Technologies
Technologymix
New buildings will be constructed in two demonstration areas. The first is "Heerlerheide Centre" with 33,000 m² of single-family dwellings and residential buildings (312 units), 3,800 m² of commercial buildings, 2,500 m² of public and cultural buildings, 11,500 m² of health care and 2,200 m² of educational buildings (Picture 1 and 2). At the "Stadspark Oranje Nassau" (SON) 12,100 m² of dwellings (110 units), 19,000 m² of offices, a hotel of 4,000 m² and a large-scale commercial complex are being built. At some buildings photovoltaic panels are used as sunshields for windows, which move according to the position of the sun.
In September 2009 the new CBS office building with 21,000 m² floor area was commissioned (Picture 3). A monitoring is continuously performed and provides all the stakeholders (in a special examination group) with information for improvement and optimization.
In a large scale Heerlen makes use of the geothermal energy by their former mine shafts. Therefore mine water is extracted from different wells with different temperature levels (Picture 4). The extracted mine water is transported by a primary energy grid to local energy stations and in a secondary grid from energy stations to buildings. The secondary energy grid provides low temperature heating (~ 35 – 40 °C) and high temperature cooling (16 – 18 °C) supply and one combined return (20 – 23 °C). Where necessary local sub-energy stations as heat pumps, small-scale CHP units or condensing gas boilers are installed in the buildings for preparation of domestic hot water, depending on the type of building and the specific energy profile. Learn more in the "more detailed" section.
District heating and cooling by minewater
Two warm wells (HH1 and HH2, 700 meters deep) are located in the north-west of Heerlen. Two cold wells (HLN1 and HLN2, 200 meters deep) are located in the middle and southern part of Heerlen and an intermediate well (HLN3, 450 meters) is located near the cold well HLN1. A primary distribution grid is constructed between the wells and the local energy stations (Map 1 + Table 1 as legend).
Thermal exhaustion must be avoided by careful management of the in- and outgoing energy flows, especially if the requested heat and cold increases because of new connections to the grids.
The temperature levels of the heating and cooling supply are "guarded" in the local energy stations by a poly-generation concept, which comprises heat pumps in combination with gas-fired boilers and a bidirectional grid. The bidirectional grid allows storing surplus heat from buildings (for example, in summer, cooling, process heat) back to the mine water wells. Monitoring the energy station indicates new opportunities for further improvement of the energy performance, especially in balancing the mine water energy and the residual heat of the supermarket.
For making efficient use of the low-exergy energy sources new buildings should fulfill special standards which were defined by the involved stakeholders at Herleen and are shown in Table 2. They concern insulation of the building and efficiency of building services and are compared to national regulation and building standard of the year 2007 in the Netherlands.
For the region of Heerlen the cooling and heating demand was estimated and it could be shown that there is a huge potential in extending the heating and cooling grid (Table 3). Up to 28,000 GJ heating and 51,600 GJ cooling per year would be needed in this region. Therefore the big building complexes in Heerlen were split into different construction phases with prioritisation to obtain the most efficient connection to the grid as soon as possible.


Table 1 – Legend to the satellite map

Table 2 – Specifications for buildings to use low exergy in Herleen
Category

Customer

Heat demand GJ/year

Cooling demand

GJ/year

Phase

Complex

Heerlerheide- Different buildings

5,000

5,000

Initiative,research

 

Maankwartier

1,500+

2,500+

Initiative

Offices

CBS-Office

2,000

600

Ready

 

APG-Office

3,500

1,500

Initiative

 

UWV-Office

2,000+

500+

Initiative

 

Municipal office

 
 

Idea

Schools

Education-campus 4 schools

4,000

9,000

Initiative, research

 

Arcus-college

5,000

4,500

Start probably this year

 

School for practice education

500+

500+

Initiative

Divers

Swimming pool

4,500

 

Initiative and quick research

 

Data center 1000 m2

 

5,000+

Initiative, research

 

Ironworks

 

22,500

Quick research

 

Total

28,000

51,600

 
Table 3 – Overview of the estimated heating and cooling demand for the region of Heerlen
The CONCERTO approach
The ambitious community of Heerlen demonstrates the use of locally available low valued renewable energy sources, specifically water from abandoned mines for the heating and cooling of buildings. The system is based on low exergy principles, and is facilitated by an integrated design of buildings and energy concepts. They will realize 50 to 100% CO2 reduction and 60% increase in energy supply from RES compared with standard national practices.
Highlights
Heerlen suffered from many typical post mining problems. Almost everything from the mining past is destroyed, which causes a severe loss of identity. A new identity is now found in new clean and green energy. The use of old mines for new energy is a physical visualisation of this transition.
Contact
Organisation
Gemeente Heerlen
Email
j.weijers@heerlen.nl
Building aspects
Building Energy Services
heating and DHW
Technology used to supply the buildings
district heating (DH) network
Technology used to supply the buildings
heat pump: compression