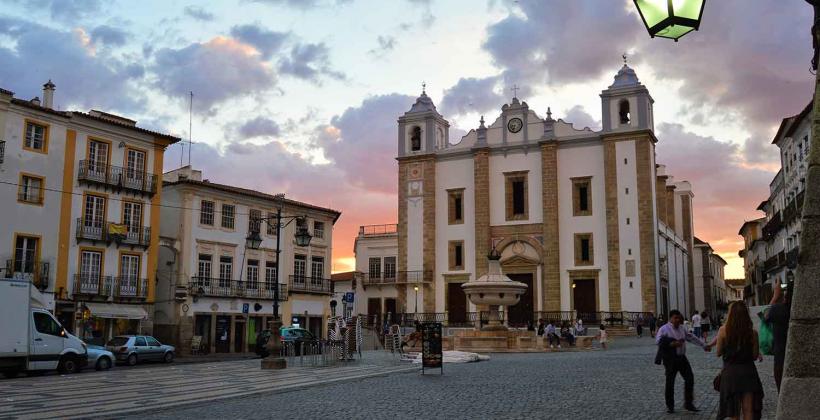 Description
Évora, located in Alentejo, is a city of an outstanding beauty, embraced by its fortress walls, filled with historic memories in each street, each home and each inhabitant, heir to a rich and diverse cultural heritage, built and preserved over time. Inhabited since the Neolithic period, its squares and monuments tell us about local and national history, religion and culture, making its people proud of both past and present times. The natural beauty of this region combined with the monumental richness of this modern and touristic city, classified World Heritage in 1986 by UNESCO, has turned Évora the main attraction pole of the region. Today, Évora is a medium-sized city that clearly assumes its vocation on heritage, culture and sustainability. The strong cultural dynamics that have marked the city life in these last few years led to the commitment of the entire society in the bid for European Capital of Culture 2027. Over the last decades, Évora has made a clear commitment to combat climate changes by focusing on measures aimed to sustainability, at the most varied levels, implementing, for instance, the first Electricity Smart Grids in Portugal and seeking systematically to develop new ways of conceiving electricity production and distribution, showing that it's possible to combine development and modernity with the preservation and appreciation of the cultural traditions and heritage values.
Demo Site Expected Impact
Transformation of the urban areas of the cities with culturally and historically protected areas in more healthier places, accessible, competitive and reliable for its citizens, improving the quality of life in their own cities through a sustainable citizen-centred model and technological, regulatory and economic innovation.
Technologies
Energy
Innovative solutions for Positive Energy (CH) Buildings and Districts
1 Positive Energy (stand-alone) Buildings
• PV glass; PV canopy; PV in skylights, and PV shingle, will be use in accordance with building codes and architectural designs, making it suitable for historical areas.
• For optimally managing the energy flux will be installed: Bidirectional smart inverters, Power electronics Energy Router, Advanced Building Management System, Home/Building Energy Management System.
2 Positive Energy Districts Retrofitting
• Smart Distribution Management System, to enhance grid monitoring and control schemes.
• P2P energy trading platform, as a cornerstone transactive layer allowing the operation of local market between buildings, also rewarding citizens' sustainable actions.
3 Feeding PEDs with Waste Streams Promoting Symbiosis and Circular Economy
• Pay-As-You-Throw systems for waste production and recycling systems.
• 2nd life residential batteries, these systems reuse the battery modules of EVs, enhancing the circular economy of this deployment;
Mobility & Transport
e-Mobility Integration into Smart Grid and City Planning
1 Smart V2G EVs Charging
• Energy management platform for the control of EV charging.
• Bidirectional smart inverters for EV smart charging and V2G applications to allow the smart charging of EV to afterwards contribute towards the reduction of peak consumption.
• Smart Lamp posts, with EV charging and 5G functionalities.
2 e-Mobility Services for Citizens and Auxiliary EV Technologies
Évora will be a learner of the EV sharing scheme introduced by Alkmaar and will be demonstrated within the city centre.
ICT
P2P Energy Management and Storage Solutions for Grid Flexibility
1 Flexible and Sustainable Electricity Grid Networks with Innovative Storage Solutions
 • Platform and algorithm that control the provisioning of flexibility and market services.
• 2nd life residential batteries;
• P2P energy trading platform.
2 Flexible and Sustainable District Heating/Cooling with Innovative Heat Storage Solutions
• Freezing storage in store, an innovative and simple solution that takes advantage of the natural storage capacities of freezers.
• Market-oriented building flexibility services, allowing retailers/aggregators to handle buildings' thermal flexibility.
Citizen Engagement
Citizen-Driven Innovation in Co-creating Smart City Solutions
1  Social Innovation Mechanisms towards Citizen Engagement
• Digital transformation in Social Innovation enabling private entities to create fundraising campaigns to alleviate energy poverty with green projects' implementation, making use of P2P trading platform.
• Gamification platform to be used for fostering the interaction with energy users in the different types of building at the different energy blocks, creating tailored strategies for disseminating information, promoting challenges and competition based on communities to leverage the impact on energy reduction strategies without compromising comfort levels.
2 Open Innovation for Policy Makers and Managers
Évora municipality will learn with Alkmaar municipality, via training sessions, the specific features of the TIPPING approach and will replicate its implementation in the city, establishing a link up to region-level.
3 Interoperable, Modular and Interconnected City Ecosystem
• Extension of City Information Platform (CIP), which offers municipalities a holistic view of their cities, presenting effective insights based on the cross-domain data from different fields (traffic, air quality, waste collection, among others).
Contact
Organisation
Camara Municipal Évora
Email
nuno.choraobilo@cm-evora.pt