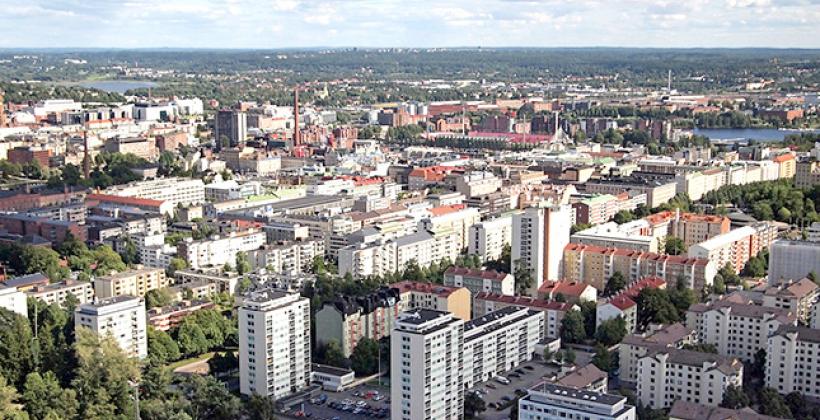 Description
Tampere is located on the banks of the Tammerkoski rapids, between two lakes, Näsijärvi and Pyhäjärvi. It is the third biggest city in Finland, and the biggest inland city in the Nordic countries with 215 168 inhabitants.
The EU-GUGLE demonstration takes place in Tammela, a sparsely built traditional residential area beside the city centre and the railway. The district characteristics feature a traditional square plan with building stock, a vivid market square and parks. The building stock consists of apartment buildings mostly built between 1960s and 1980s. Buildings and sites are owned by private households via Limited Liability Housing Company system. 440 dwellings are to be renovated with an area of 32 300 m2 and 660 inhabitants.
Demo Site Expected Impact
* Further information regarding the technical and economic performance will be available at a later stage.
The energy efficiency measures implemented in Tampere led to 1930 MWh/yr of final energy savings. The total primary energy savings go up to 920 MWh/yr, while the CO2 reduction is 382 tonnes every year. The reason behind the low primary energy savings is the primary energy factor of the district heating network used in Tampere: 0.7 kWhPE/kWhFE.
These positive environmental values are likely to increase when more information is reported by the project.
Technologies
Energy
* Information regarding the economic performance will be available at a later stage.
The measures implemented in Tampere are:
Energy efficiency in buildings
Retrofitting the building envelope

Rehabilitation focuses on adding insulation to the walls, renewal of the windows and balcony doors, glazing of the balconies

Heat pumps
Building services (HVAC and lighting)

Energy-efficient lighting
Lower water pressure and water saving faucets
Energy systems integration
District heating and cooling
Thermal collectors
ICT
Building energy management system

Advanced building automation
Remote monitoring of the properties
Contact
Organisation
VTT Technical Research Centre of Finland
Email
terttu.vainio@vtt.fi
Building aspects
Building Energy Services
heating and DHW
Installed Renewable Energy Sources
photovoltaic
Installed Renewable Energy Sources
solar thermal collectors
Technology used to supply the buildings
district heating (DH) network
Technology used to supply the buildings
heat pump: compression