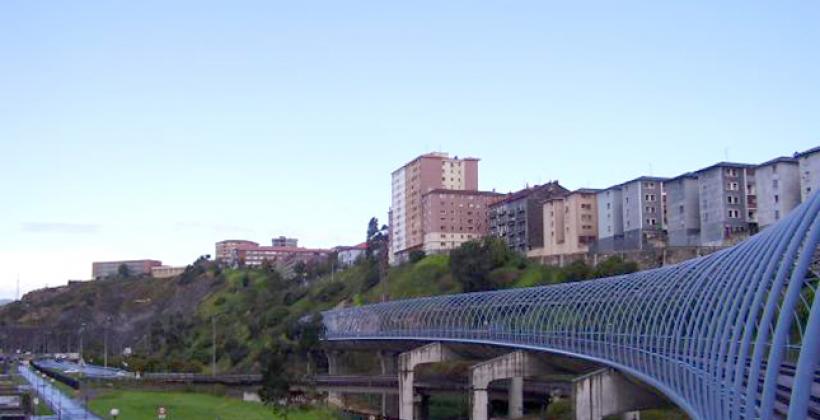 Description
Located 11 km from Bilbao, Sestao is a municipality with a strong post-industrial character. It has an area of 3.5 km2 where only 0.9 km2 are devoted to residential use and the rest is used for industrial purposes.
The demonstration district included in the EU-GUGLE project is located in the lower area of Sestao and is the most affected by the de-industrialisation process, with high unemployment rates. There is a mixture of local and immigrant populations with limited economic resources and a low academic level. The building stock consists of residential buildings, most of which have private owners, but there are a few public buildings. Most of them were built between 80 and 100 years ago in wood  resulting in poorly ventilated interior rooms and no natural light distribution. The renovation area covers 24 509 m2 and is made up of 258 dwellings with 1300 inhabitants.
Demo Site Expected Impact
* Information regarding the technical and economic performance will be available at a later stage.
Since most of the buildings in the demonstration are privately owned, energy-efficient refurbishment measures will not have a significant impact on rent prices. However, these energy-efficient measures will raise the value of the homes in terms of their market price and impact on the residents' energy bills.
Furthermore, to carry out the rehabilitation work it was necessary for the public administration to assume ownership of some of the homes then, once they were renovated, these homes would be sold or leased to private parties with protection criteria of public housing. This does not just mean a change in ownership of dwellings but also a renewal and rejuvenation of the population living in the district. The allocation of housing to protection criteria of publicly-owned buildings not only guarantees the arrival of new families, but also the possibility of elderly people and people with mobility problems getting secure housing in the area.
Technologies
Energy
* Information regarding the economic performance will be available at a later stage.
The measures implemented in Sestao are:
Energy efficiency in buildings
Retrofitting the building envelope

Rehabilitation resulting in reduction of waste, costs and CO2 emissions, with the use of sustainable materials such as wood, plasterboard, prefabricated panels, etc.

Building services (HVAC and lighting)

Planned rooms with natural light and airy spaces, achieving an improvement to the houses' ventilation conditions
Energy systems integration
Biomass boilers

Biomass centralised boilers for the production of hot water and heating (20 %)

Thermal collectors

Renewable thermal energy through solar panels for hot water and space heating (80 %)

Waste heat recovery

Lifts with excess energy recovery system
ICT
Building energy management system

Programmable thermostats for heating systems
Contact
Organisation
City of Sestao
Email
luiskar@sestaoberri.eus
Building aspects
Building Energy Services
heating and DHW
Building Energy Services
other please specify
Technology used to supply the buildings
boiler
Technology used to supply the buildings
district heating (DH) network
Technology used to supply the buildings
electrical equipment
Technology used to supply the buildings
other please specify