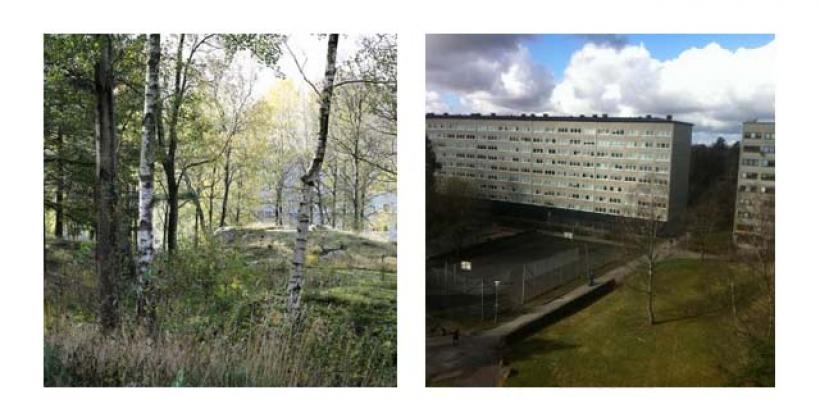 Description
Gothenburg is the second largest town in Sweden with 526.000 inhabitants. The city has changed since the 1970s from being an industrial city to also become a "knowledge city" with The University of Gothenburg, and Chalmers University of Technology. Gothenburg has a rich cultural life, but it is also one of the most segregated cities in Sweden. Social sustainability and integration is high on the cities agenda. The area of Hammarkullen is located in Angered, one of ten city districts in Gothenburg, northeast of downtown. Angered is verified, with agricultural landscapes, and large housing areas as part of the Swedish "Million homes program" from the late 1960s to early 1970s.
The district and the building stock
Angered has about 49,000 inhabitants, of whom 7,800 lives in the district Hammarkullen.
Hammarkullen as many other housing areas built under the "Million homes program" is stigmatized as a neighborhood with large-scale buildings and social problems. Today more than 80% of the population in Hammarkullen has an immigration background and about 57 % of the inhabitants are born abroad. Many have come here as refugees. The middle income in Hammarkullen is about 54% relative to the average income of Gothenburg, and 29% of the families have social benefits.
Parts of the building stock are large scale residential buildings, built in the 1969-1970.  One of the blocks is more than 300 meter long. But here are also areas with 3-storey buildings and small scale terraced houses and villas.
In Hammarkullen there are schools, pre schools, a store building, a house for elderly and a public bath house from late 1960s. A sports hall was built in 2004.
Technical specifications
The municipal housing company, Bostadsbolaget, who owns 1,342 apartments, renovated the facades of most of their buildings about five years ago. During the renovation some of the apartments got an extra room.
About 1000 dwellings are to be renovated.
Owners of the buildings are both municipal and private owners.
Contact
Organisation
City of Gothenburg
Email
wenche.lerme@angered.goteborg.se