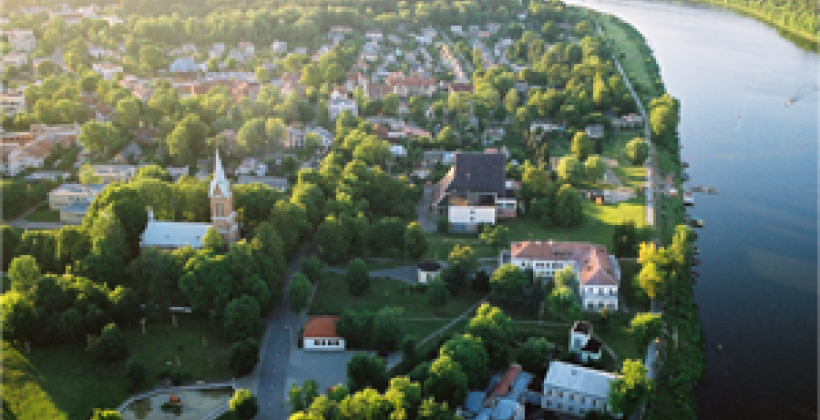 Description
Birstonas demo site was not implemented. The project found that it is not feasible to deeply refurbish social housing which is collectively owned by the inhabitants (energy bills are paid by the municipality therefore there is no incitement energy saving). If financing sources such as structural funds can be combined with other funds that together cover more than 50% of the costs, then it can be possible. As this was not the case, the original plans in the project with the demonstrations in Lithuania were canceled. A potential way forward could be that the municipality buys the buildings for refurbishment and rents them out in a sell-and-lease–back-model. This said, municipalities must be frontrunners and have access to capital. 
Site facts and figures
Estimated population involved: 900
Approx. geographical area coverage: 35 ha
Approx. energy saving: 70%
Approximate energy from RES: 90%
Technologies
Technologymix
During the CONCERTO period biomass boiler installations connected to district-heating with a total power of 2 MW are installed, of which 0.4 MW are dedicated to the demonstration project. The heating will be based on the local biomass resources (wood waste from forestry and sawmills).
Solar collectors with a total area of 500 m² for the preparation of domestic hot water (DHW) will be implemented. Up to 1.5 kWpeak of photovoltaic systems are supposed to be installed. In several other buildings heat pumps will be installed for DHW, small-scale photovoltaic systems will be integrated as well.
In the field of polygeneration a combined heat and power (CHP) plant (100 kWel/130 kWth ) is constructed, which covers the electricity demand of the utility, which operated the district heating. The CHP unit will be prepared for connection to a biomass gasifier, which will be implemented at a later stage. Ashes from the biomass boilers will be used as fertilizer in the forest.
About 360 typical Eastern European dwellings (equal to 25,500 m², dating from 1967 to 1979) are to be refurbished to very high energy efficiency standards (Picture 1 + 2). Furthermore three public buildings (a total of 5,357 m²) will be refurbished. In the tertiary sector a new office building, a school of art and a health care center (equal to a total of 2,585 m²) will be built. Smart metering and retrofitting part of the street lighting is foreseen as well.
Picture 3 shows a map of the CONCERTO demonstration area.
Retrofit standards
Measures on the reduction of energy consumption include 13 multi-flat buildings (up to 25,500 m²) and 3 public buildings (up to 5,357 m²). The buildings are to be refurbished to reach a high energy performance level, achieving energy consumption levels at least 30 % better than current standards of the Republic of Lithuania.
Energy audits for all buildings were performed and refurbishment packages were developed. Comparison of heat transfer coefficient of some of the elements of building envelope is presented in Table 1.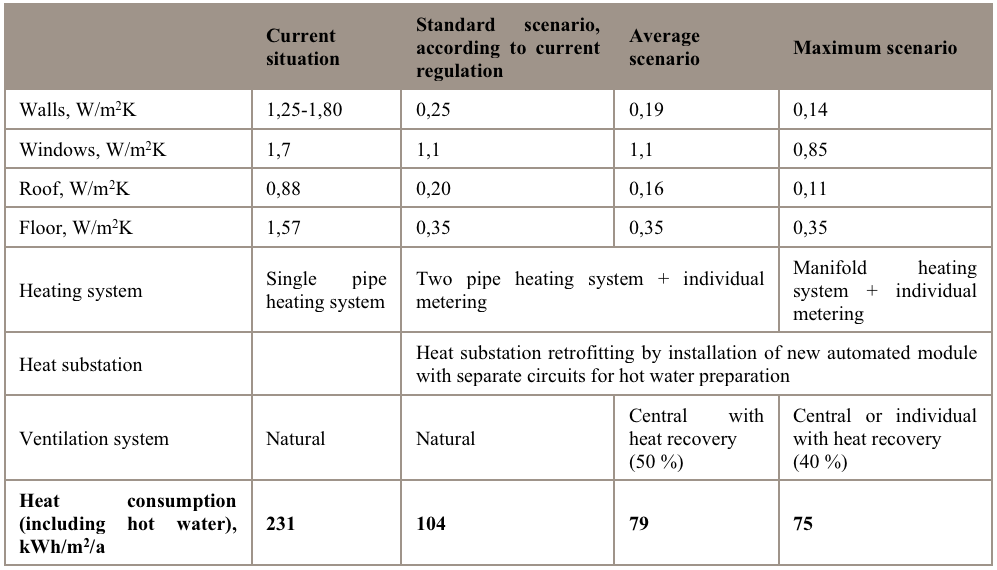 Lessons learnt
The following information has been gathered as part of the CONCERTO Premium policy research.
Benefits of CONCERTO:
Skill development:
All project partners, inhabitants, other stakeholders increased their qualification level due to CONCERTO.
Barriers encountered:
Legal barriers:
One multi-apartment building is owned by many flat owners, what impedes reaching the common agreement and decision making process, different social and financial state of the flat owners, different attitude to the owned property and building modernization as well as limited possibilities to use bank loans.
The buildings modernization process, especially application of the ESCO model, is complicated by the existing compensations for heating and hot water. In buildings under consideration from 6 up to 100% of the residents in different buildings received compensations for hot water and from 18 up to 67% received compensations for heating in 2010. Although there exist rather favourable conditions to modernize buildings for the low-income residents (they are exempted from payments for the building modernization) under the DNMP, often they are against and are not interested in modernization. However, these residents face the risk that if they lose their rights for compensations, they will have to pay for the buildings modernization.
Economic barriers:
Eco-Life project provides support for demonstrational activities with a view of higher energy efficiency standards than existing national norms. However this support is not sufficient. The main problem to implement the Eco-Life project is that it is not possible to combine Eco-Life support with the available national support schemes – EU Structural Funds and Programme on Modernization of Multi-apartment Buildings. Programme on Modernization of Multi-apartment Buildings provides support under favourable conditions, however it is partly financed from EU Structural funds via JESSICA mechanism. Only Programme on Modernization of Multi-apartment Buildings support is not sufficient as well to encourage inhabitants to implement the higher energy performance measures than it is established in the existing national regulation.
The CONCERTO approach
The project involves an area of 35 ha, which has been designated the new recreational part of the city. The area already includes around 25,500 m² of living space within 13 multi-flat buildings (wall construction from bricks). Currently, these buildings, which were constructed from 1967-1979, have a low standard and poor energy-efficiency performance. The ECO-Life project will allow the planned renovation of the residential area to be carried out at a high energy standard.
Additionally, the project involves three non-residential buildings: an office building, a school of art and a health care centre. Similar to the residential buildings, the non-residential ones have poor thermal insulation and large heat losses. This will be improved by refurbishment and modernisation measures of the buildings.
Highlights
Currently heating to the community buildings is supplied by two types of fuels: natural gas and biomass (wood waste). Additional the installation of a 2 MW heat generation plantbased on bio fuel has been planned. This will make it possible to reduce CO2 emissions and encourage the use of local, renewable fuel resources.
Having the majority of the heat produced by burning biomass, additionally, a flue gas condensation unit will be installed at a later stage in order to improve energy generation efficiency. In the buildings, solar collectors and heat pumps will be installed to cover the energy needed for DHW.;
Contact
Organisation
UAB "COWI Lietuva"