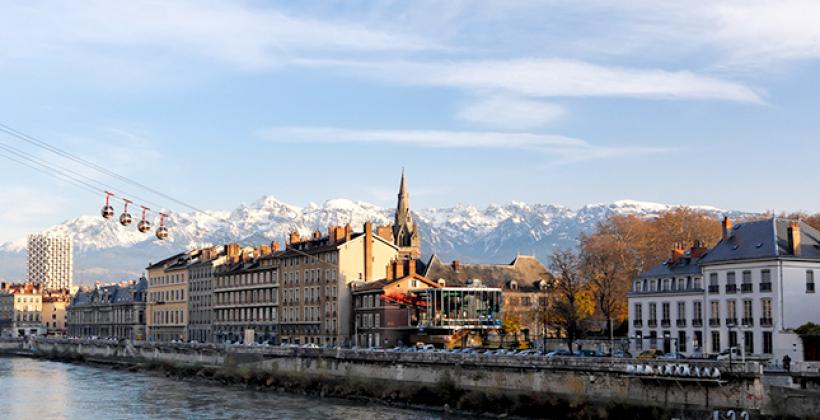 Description
As a major player in the Local Climate Plan since 2004 and as a Covenant of Mayors' member since 2008, the city of Grenoble is committed to reducing energy consumption, encouraging the use of renewable energies, promoting social solidarity, setting up alternative forms of transport and developing environmental, architectural and urban quality. The main objectives of the Grenoble Local Climate Plan, launched in 2004, and revised in 2009, remain the reduction of local greenhouse gas emissions by factor 4 by 2050.
Between 2005 and 2010, energy consumption decreased by 5,4% and greenhouse gas emission were reduced by 18%. The final energy consumption per inhabitant in 2011 was 19.7 MWh. To go further and turn Grenoble into a true smart city for its inhabitants, the municipality has launched the Éco-cité project in the north side of the town. Eco-cité is gathering private and public stakeholders around demonstration projects for which political decisions have already been taken in the fields of mobility, building and energy.
Grenoble's overall objective of the City-zen project was to transform the Éco-cité area into a positive energy and carbon neutral district through retrofitting private co-owned buildings and social housing, creating a low-temperature heating and cooling network, and to develop a territorial monitoring system to monitor and manage all energy flows in order to save energy and assess the systems' and policies' efficiency.
Lessons Learned:
In 5 years of City-zen, the 20 projects yielded many lessons learned.
Top 3 lessons learned overall:
1. Connect
Although it is far from easy, it is also highly advisable to organize peer meetings and exchange ideas between teams from different cities as the meetings will lead to deeper levels of understanding
2. Plan time
Even when fully involved in the implementation of solutions it is important to devote time for experience sharing and dissemination
3. Empower citizens
Involve citizens/inhabitants and truly put them at the heart of the solutions' implementation
More overall learnings can be found in this document: http://www.cityzen-smartcity.eu/wp-content/uploads/2019/11/interactive_final-deliverable-book.pdf
Learnings per project (for example, smart grid projects, retrofitting projects, etc) can be found in the project reports on this page: http://www.cityzen-smartcity.eu/home/reporting/deliverables/
Demo Site Expected Impact
*Information regarding the technical and financial performance will be available at a later stage.
The total CO2 emission savings amount to 10 900 tonnes per year.
Technologies
Energy
The technologies used in the various projects that were developed during the 5 years of City-zen are plentiful. Examples are:
- the development of a demanding roadmap to 2030
- various smart grid technologies such as a collaborative energy data management, a PV plant with storage on tertiary building, demand response on tertiary site
- innovative heating and cooling technologies such as a geothermal drainage network, a low carbon heating network
- improving the energy performance of existing buildings (social and private housing) to the level of current thermal regulation : BBC level
You can read the technical details in the project reports on this page: http://www.cityzen-smartcity.eu/home/reporting/deliverables/
Contact
Organisation
City of Grenoble
Email
nathalie.moyon@grenoble.fr
Building aspects
Building Energy Services
DHW (only)
Building Energy Services
heating (only)
Building Energy Services
heating and DHW
Building Energy Services
lighting and appliances
Installed Renewable Energy Sources
photovoltaic
Technology used to supply the buildings
boiler
Technology used to supply the buildings
condensing boiler
Technology used to supply the buildings
district heating (DH) network
Technology used to supply the buildings
electrical equipment
Energy Carriers
Domestic gas - grid-bound
Energy Systems Types
Storage
Electrical Storage
Sustainable Generation
Solar Thermal Plant
Thematic Field
Energy System(s) Integration
Information and Communication Technologies