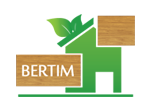 Details
EU contribution
€4,148,435
Funding programme
H2020
EE 1 – 2014: Manufacturing of prefabricated modules for renovation of buildings,
Description
BERTIM developed a prefabricated solution providing the opportunity to renovate buildings, with a view to improving energy performance, air quality, aesthetics, comfort, and property value at the same time, while ensuring low intrusiveness during renovation works. The manufacturing of the solution was included in a holistic methodology for the renovation project process, from data collecting to installation.
Project demonstration sites
Objective
BERTIM contributed to increased energy-efficient building renovation rates in Europe by developing energy-efficient and cost-effective products for the wood industry.
In response to the challenges identified, BERTIM provided:
High energy performance prefabricated modules for deep renovation, integrating windows, insulation materials, collective HVAC systems, renewable energy systems and energy supply systems. The modules were based on timber and recyclable materials for a low-carbon footprint. The assembly system guaranteed a short installation time and minimal disturbance to tenants.
An innovative holistic renovation process methodology based on a digital workflow from design to installation. In order to support the renovation process, a renovation project design tool oriented to SME integrating BIM with CAD/CAM tools and assuring the interoperability with CNC machines for mass manufacturing processes was developed and implemented in three industrial settings.
Affordable business opportunities for different stakeholders as potential leaders in the launching of the renovation process. The whole renovation process and the developed timber modules were validated in full-scale research infrastructure, and then they demonstrated in two real buildings in two different climatic zones (South and North Europe).
Contact
Organisation
Tecnalia Corporación Tecnológica
Email
nagore.tellado@tecnalia.com