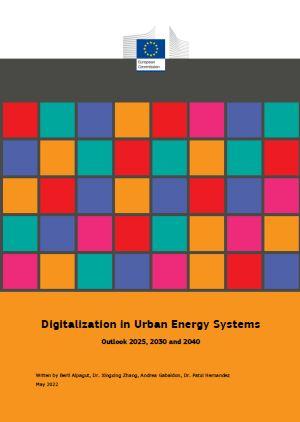 Scalable Cities are proud to announce the publication of the paper: "Digitalization in Urban Energy Systems. Outlook 2025, 2030 and 2040."
Digitalization is defined as the transformation of a business or industry by using digital technologies to improve its processes. Digital tools can help to integrate and analyse data, underpin more effective and sustainable policymaking and urban planning, provide information and insights, and create benefits for citizens. Specially for urban dense areas, digitalisation can assist to reduce resource demand and improve flexibility to respond to changes. 
Digitalisation can improve cities' liveability in multiple domains, such as security in streets (e.g. cameras or smart surveillance systems), healthcare and wellbeing (with telemedicine, real-time air quality monitoring, etc.), economic development and housing (e.g. peer-to-peer accommodation platforms), engagement and community (e.g. local connection platforms), and the management and operation of mobility (e.g. smart traffic signals), water (e.g. leakage detection), waste (e.g. optimization of waste collection routes), and energy (e.g. smart buildings, smart street lighting, etc.).
The research question of this paper asks how we can leverage this digital transformation into cities towards effective climate action to contribute to the implementation of the Paris Agreement and also achieve the target of achieving 100 climate neutral cities by 2030.
The publication is a work of a group of experts working as part of the Expert Group - a community of smart cities professionals providing technical advice and support to the Scalable Cities and the European Commission. 
Publication is located on the website of the Publications Office of the European Union as well as on the web of the European Climate Infrastructure and Environment Executive Agency. 
Related topics
Thematic Field
ICT aspects