Image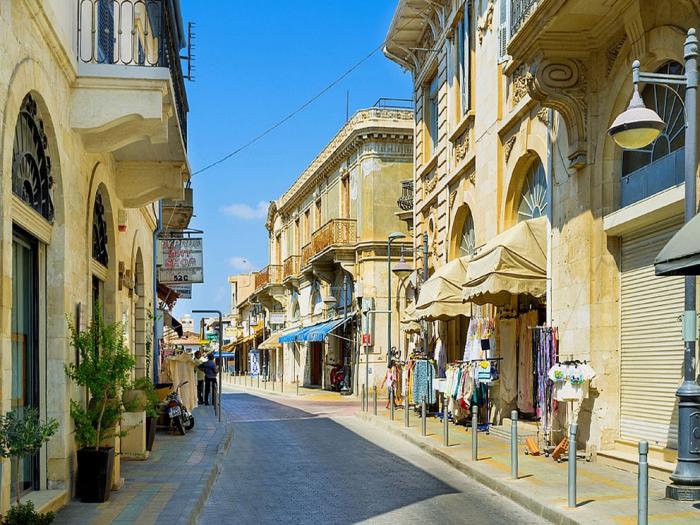 Limassol (Credits: SmartGov)
Our thanks to Constantinos Stylianou for his input on the situation in Cyprus and the reasons why FCMs are so relevant to the case.
Constantinos Stylianou holds a PhD in Computer Science from the University of Cyprus. He has experience in working with FCMs as a qualitative modelling and simulation tool for supporting decision-makers during assessment and analysis of the impacts of policy decisions in socioeconomic, political and technology problems. He has previously worked in a number of EU-funded research projects, including: GENESIS (FP6-ICT) for enterprise application interoperability-integration for SMEs, governmental organizations and intermediaries; FUPOL (FP7-ICT) for intelligent tools for future policy design and modelling; and DOSSIER-CLOUD (H2020-TWINNING) for DevOps-based Software Engineering for the Cloud.
Currently, he is a researcher at Interfusion Services (www.interfusionservices.com), an innovative R&D SME based in Limassol that focuses on actively contributing and exploring links between the most important core areas related to social, environmental and political developments (such as sustainable tourism) and horizontal ICT fields (such as e-government and e-inclusion), while keeping in tune with regional, national and international developments. He is also part of the research team involved in SOCLIMPACT (H2020-SOCIETAL CHALLENGES) for downscaling climate impacts and decarbonization pathways in EU islands, and enhancing socioeconomic and non-market evaluation of Climate Change for Europe, for 2050 and beyond.
Interfusion Services was a consortium member of the SmartGov project for advanced decision support for Smart Governance (SmartGov project). SmartGov was an interdisciplinary and international research project funded by JPI Urban Europe, a joint programming initiative, which aimed to create attractive, sustainable and economically viable urban areas for European citizens and communities. As part of the piloting activities in the project, several FCM models were constructed for the municipalities of Limassol (Cyprus) and Quart de Poblet (Spain). Specifically, the usage of FCMs for dealing with the problem of garbage collection management described in this article was the focal point of the piloting for the Municipality of Limassol.
One of the more complex tasks in managing a smart city is the acquisition and analysis of citizen sentiment. This is beyond doubt difficult in an environment like Limassol, for, to quote Dickens, there is a tale of two cities. First, there is the regular populace of citizens who live in Limassol and then there is a second, transient group of people whose opinion is very important: the tourists who fly to Cyprus in summer. Clearly, the needs and expectations of these two groups are very different but both have to be taken into account when Limassol is assessing feedback about municipal matters.
This is why fuzzy cognitive mapping is so useful.
What is Fuzzy Cognitive Mapping?
Fuzzy cognitive mapping (FCM) is a rather intimidating name for a graphical model that assists in quantifying qualitative input. Bart Kosko developed and published a paper on the approach in the 1980s.
Key factors or concepts of the problem at hand are identified and the strengths and weaknesses of the relationships between them are represented by lines that are given fuzzy values, resulting in a model of the system. This model can then be subjected to scenarios and simulations to predict likely outcomes. The model is built by mapping individual interviews and then consolidates them into a single output.
FCM is very suitable for cases that need to be systematised and have some or all of the following characteristics:
situations where human behaviour is the root cause of the risk or problem to be mitigated or resolved,
requirement of multiple stakeholders with very different views and a democratic solution,
collating the opinions of the various stakeholders, especially where the public at large is part of the equation,
little published factual or scientific data but availability of good supply of tacit as well as local and indigenous knowledge.
This makes FCM ideal for mapping complex urban issues that comprise many of the roadblocks en route to become a smart city.
Getting to Grips with Garbage Removal
Waste management is a major headache for most urban areas and this is especially the case for the municipalities of Cyprus in general and those of Limassol in particular. In order to meet the EU's stringent 2020 requirements for recycling and promoting the circular economy, Cyprus has to stop using landfills and radically increase recycling. In 2017, waste recycling on the island stood at only 19% compared with the European average of 46%. Over 70% of waste was still ending up in landfills in 2018 compared with 24% for the rest of Europe. While the threat of heavy penalties are looming for not meeting EU targets, Limassol has embarked on a strategy to fix the problem at source, by making citizens and visitors more active in recycling.
The Garbage Collection Challenge
Like many islands that attract tourists, Cyprus earns much revenue from visitors but suffers because the population volume increases drastically during the holiday season. In the Philippines and Thailand, the influx of tourists caused the governments to completely shut down Boracay Island and Maya Beach in order to sort out their waste management problems. While Cyprus does not have to take such extreme measures, it is estimated that the annual influx of over 3 million tourists is equivalent to having 300 000 additional permanent residents, more than 25% of the current population of 866 000.
Meeting the Challenge in Limassol
Changing Mindsets
One of the key success factors in improving waste collection and changing mindsets is making it easy to recycle. Receptacles must be available, ideally split into paper, plastic, glass and non-recyclable containers. This is being implemented at most of the hotels where tourists are encouraged to recycle. As many of these tourists are from the EU and adjacent countries, where recycling is more commonly practised, they are generally receptive to sorting their waste into the appropriate bins. There are also campaigns to encourage the local population to recycle.
Managing the process
The next step in the process is clearing the bins and taking the refuse to reclamation units. Where bins are provided, they must not be allowed to fill up, so frequent collection is imperative. This also applies to household waste. Limassol removes waste twice a day on two days a week, either Monday and Thursday or Tuesday and Friday, depending on the route
Getting the Feedback
This is where fuzzy cognitive mapping comes into play, collecting feedback from residents and tourists about the waste reclaiming process. Some of the information collected focuses on the actual collection process. The first removal shift starts at 1 am, while the second shift is at 5 pm. While most residents and many tourists should be asleep during the early shift, the 5 pm shift occurs at a very busy time of day. Sentiment is gauged for the 5pm shift around concerns such as:
the effect on traffic, with drivers being impacted by the stop/start progression of the trucks,

how people at restaurants and pavement cafés feel about a noisy, smelly garbage truck stopping near where they are sitting having snacks and drinks,

whether the prompt and frequent removal is appreciated and outweighs the inconvenience.
The FCM analysis can take the very different reactions and opinions of tourists and residents and provide a unified sentiment analysis. This can then be used to improve the waste management process.
Looking Forward
There are still many challenges ahead; the landfills need to be closed, and certain waste, such as glass and batteries, have to be taken to designated bins found strategically placed at collection points or in banks, supermarkets and schools. This requires extra effort on the householder's part as well as extra time. However, Limassol has a valuable tool to measure how their citizens are feeling about waste removal. FCM has been used for over a decade in Cyprus and Limassol and municipal officials are comfortable with it and trust the outputs produced. The ability of FCM to create common patterns from very differing views and voices makes it ideal for this city with its shifting and variable population.