Image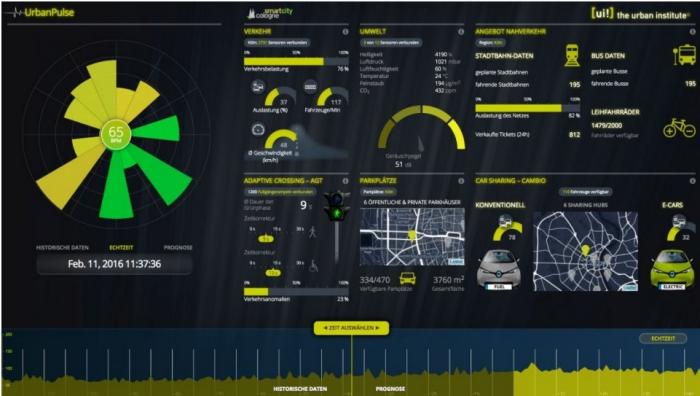 Interview with Julia Egenolf, GrowSmarter Project Manager for Cologne
As the effects of climate change are being felt around the globe, the European Horizon 2020 programme seeks to mitigate the damage we have done to our environment. Through innovative ways that reduce CO2 emissions and end the relationship with fossil fuels, projects that meet the criteria of the programme are on the rise all across Europe. German city Cologne has also taken up the challenge as one of the three Lighthouse Cities of the GrowSmarter initiative. In common with other Horizon 2020 projects, Cologne has committed itself to 12 solutions in GrowSmarter's three areas of impact:
Low Energy Districts,
Integrated Infrastructures,
Sustainable Urban Mobility.
The demonstration area is based in the Stegerwald neighbourhood in Cologne-Mülheim. The goals of 70% primary energy reduction in the building sector and 60% CO2 reduction in the mobility sector have been achieved.
As Lighthouse City, Cologne not only has the responsibility to implement the selected solutions but must also ensure that they are repeatable and shareable with other cities. While European cities like the five Follower Cities of GrowSmarter (Cork, Graz, Porto, Suceava and Valetta) are the intended recipients of the findings from Cologne and its two sister cities Barcelona and Stockholm, the information is freely available to any other city, European or global.
We spoke to Julia Egenolf, the GrowSmarter Project Manager for Cologne, about the project and what innovations and improvements Cologne was applying to the problem areas.
Getting around Cologne
While energy efficiency via retrofitting old buildings and giving more control to citizens over their energy demand are part of the Cologne project, just as they are in many other European cities, the CO2 emissions produced by urban traffic are also a major headache. Rush hour, school pickups and drops or roadworks: most cities battle congestion at peak times if not all day. Cologne has identified four possible solutions that, when implemented, should reduce traffic emissions by a targeted 60%:
Reduction of private vehicles,
Provision of e-mobility solutions,
Improvement of parking via a parking app,
Change of citizen's mobility behavior.
While the technology and infrastructure required, such as a parking app or a car-sharing station, is already adopted in other cities and is relatively easy to implement, changing citizens' attitude about mobility is a major challenge. However, if alternatives to private vehicles are readily available, citizens who use them often might sell their cars and might adopt the trouble-free life of using a vehicle or a bike that does not need servicing, repairs or insurance. After all, an efficient and well-connected public transportation network is the basis for car- and bike-sharing systems. The bike-sharing model in Cologne is integrated with the bus service and uses a common ticket for both methods of transport. Another subtle form of change management is embedded in the parking app, where pricing is determined by time of day and popularity of space, causing drivers to re-think their next visits so that they might leave their cars at home the next time.
The move by both private citizens and logistics companies, such as DHL, to electric vehicles is also to be welcomed and car charging sites are provided at strategic points like the mobility stations.
Putting Power in Citizens' Hands
Like most European cities, Cologne has many residential buildings that were built 30 to 60 years ago which require refurbishing to make them as energy-efficient as their modern counterparts. The retrofitting is aimed at reducing heat loss by remedies such as building insulation, triple glazing, improved roof insulation and LED lighting. This lowers the demand for power because the heat is retained longer and better within the flats/residences.
By means of solar systems on the roofs and air/heat pumps, the district generates parts of the required energy re-generatively on site and stores it in local electricity storage facilities. The entire energy system is controlled by a virtual power plant, the so-called neighbourhood management system. It is an intelligent energy management system software that optimizes the electricity consumption of the facilities and the power generation of the energetically renovated residential area, thus maximizing the self-sufficiency of the area. The management system controls both internal (PV, air/water heat pumps, battery storage) and external (district heating) energy generators.
With the help of offers such as tenant electricity (mixed product from PV electricity and renewable energies from the grid) as well as SmartHome and SmartPlug systems, the residents get confronted with their user behaviour and are encouraged to change it. Sensors within the building provide feedback on power consumption right down to device level.
Illustration taken from YouTube video about the Stegerwald pilot.
The data is also transmitted to the open data platform, where it is analysed to balance power demand and supply. While changing habits is difficult, the opportunity to save costs by controlling power usage is a powerful change management tool to encourage active citizenry.
Bringing it all together
All projects operating under the Horizon 2020 banner have the requirement to build an open data platform, where data about the city is stored. It is both for the benefit of the citizens and the city management. In Cologne, data about traffic and energy feed into the platform via strategically placed IoT devices. The Urban Cockpit is an easy to use dashboard for the city, providing real-time updates on traffic management for example.
Urban Cockpit illustration from GrowSmarter Factsheet no S8.1_F31
Regular feedback is provided to citizens and sentiment analysis of their reactions to the changes happening in the Stegerwald neighbourhood is done. While residents generally mention how much things are changing in their area, the changes are bringing an improved quality of life and this is recognized. They are also encouraged to make suggestions and actively participate in the project.
Cologne is satisfied that their initiatives can easily be adopted by Follower Cities and others. Cities adopting initiatives emanating from the GrowSmarter project can pick and choose solutions from Barcelona, Cologne and Stockholm, according to how well they fit the location, climate, demographics and built environment of their own city. The "Stegerwald Café" is the neighbourhood hub for meetings and feedback.
The Stegerwald Café – from Presentation on Smart Mobility in Rotterdam, December 2016 by Julia Egenolf
Demo site