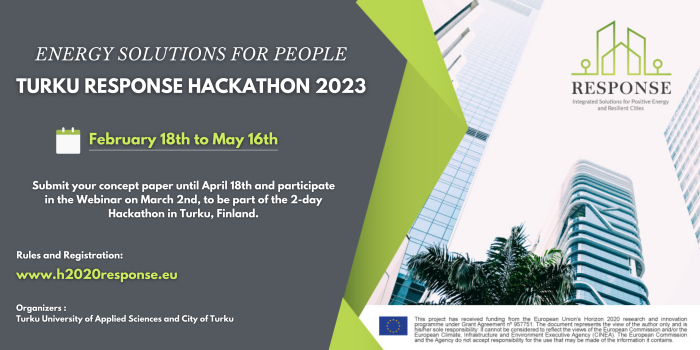 Are you the winner? Bring your best ideas to the H2020 RESPONSE Hackathon!
The challenge is open to students, businesses, and organizations that want to create digital solutions that motivate people to monitor their energy consumption.
About the Hackathon:
To whom?
The challenge is open to students, companies, organizations as well as other groups or individuals who want to solve the challenge.
Why?
Energy is now part of everyone's daily life but is not tangible. Still, it has an impact on our wallets and our environment. To be able to drive the change and participate in the green transition, citizens should gain an understanding of energy and climate change so that they
a) can and want to make a difference
b) know what they can do and
c) know how their actions have an impact.
Any new action should be integrated into the natural way of doing things, effortlessly and easily in everyday life. To do this, a tool is needed to measure, demonstrate, explain, remind and communicate the impact of different actions.
What?
With the Hackathon, ENERGY SOLUTIONS FOR PEOPLE-TURKU RESPONSE HACKATHON 2023, we are searching for digital solutions to get people thinking about energy issues and monitoring the impact of their behaviour. The solution can use gamification, social media, AR, VR, or MR technologies, 3D models, 360 images, etc. Most importantly, the new solution should encourage residents to monitor and pay attention to their energy consumption, help change consumption habits, demonstrate and visualize the impact of different actions, and engage and activate individual and collective action.
How and When?
Turku University of Applied Sciences and the City of Turku will organize a hackathon, which includes a two-day event. During the event, a maximum of 4 proposals will be awarded prizes after public feedback and a jury decision. The hackathon is divided into different phases:
February 18th – April 18th: Register and deliver your concept paper, of which max. 15 best teams will be chosen to participate in the hackathon event

March 2nd: Kick-off webinar to give the background information

April 23rd: Chosen teams will be invited to participate in Day 1

April 28-29th: Hackathon Day 1 and 2
- During Day 1 all invited participants will develop their solution and pitch it to the jury. 10 best teams will be chosen to continue to Day 2
- During Day 2 chosen 10 teams will develop their solution further and create a video pitching for the jury and public
May 2nd – May 16th: Online public hearing of the solutions for two weeks

Awards ceremony in May: The winner and runners-up will be awarded in a final event
Useful Links