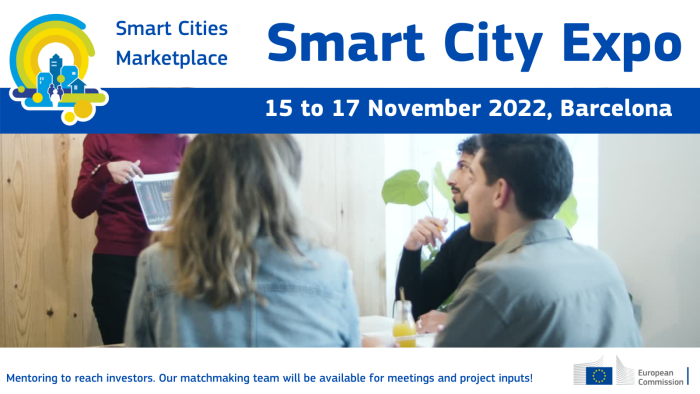 How?
Register for the official Congress Brokerage Event! We are proud to be part of it this year. Search for 'Smart Cities Marketplace Matchmaking' and send a direct message to one of our team members.
Our offer for you: Mentoring to reach investors. Our matchmaking team will be available for meetings and project inputs!
Where? Onsite in Barcelona from 15 to 17 November. Book meetings via the official brokerage platform or send an email to: matchmaking@smartcitiesmarketplace.eu to align a mentoring exchange. Online meetings available directly via the b2match platform between 22 and 24 November.
Why meet with us?
The value of our services resides in a simple feature: tailoring. Our approach is uniquely tailored towards the specific needs of cities to produce a virtually seamless experience in every stage of their transition. All the different services, tools, and processes available through the Smart Cities Marketplace are purposefully combined to drive your city to measurable success.
In addition, the Smart Cities Marketplace has access to a reliable and expanding network of investors as well as synergies with a growing number of other relevant initiatives and projects to further enhance the quality and intensity of the support that our team can deliver.
Engage with the Smart Cities Marketplace to move one step closer to striking a deal with funding and financial partners, receive guidance and expert assistance to shape specific projects, or simply explore already existing solutions and get inspired by learning from peers.
Not sure about your specific needs yet? 
Come talk to us from 15 to 17 November at the European Smart Cities and Communities/European Commission Pavillion stand in Hall 2, Gran Via, Level 0, Street B, Stand 21!
We are available at the Smart City Expo World Congress for:
bilateral talks,

dedicated individual meetings (pre-booked and spontaneous),

small workshops,

sharing knowledge in info sessions.
Find information on and an overall agenda of the European Smart Cities and Communities programme and the Smart Cities Marketplace sessions below.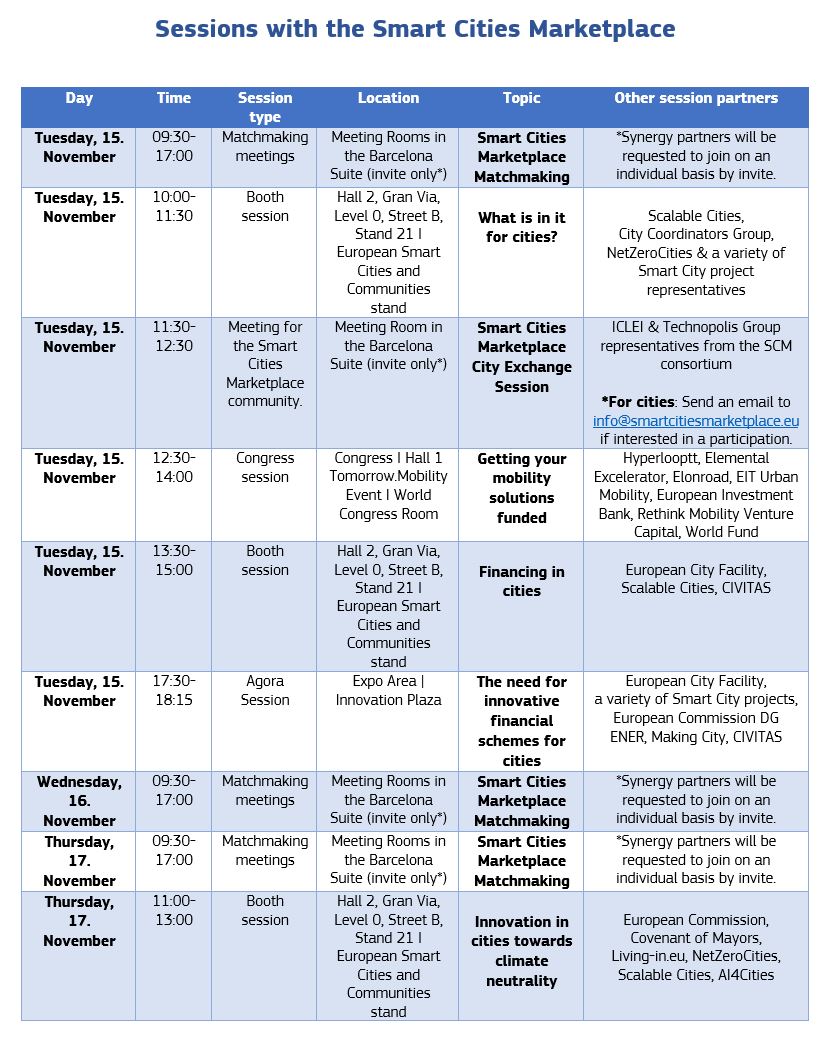 *Interested in a Matchmaking meeting? If you wish to pitch a specific project, or meet with our team to know more about how we can help you to further progress towards climate neutrality, send an email to matchmaking@smartcitiesmarketplace.eu.