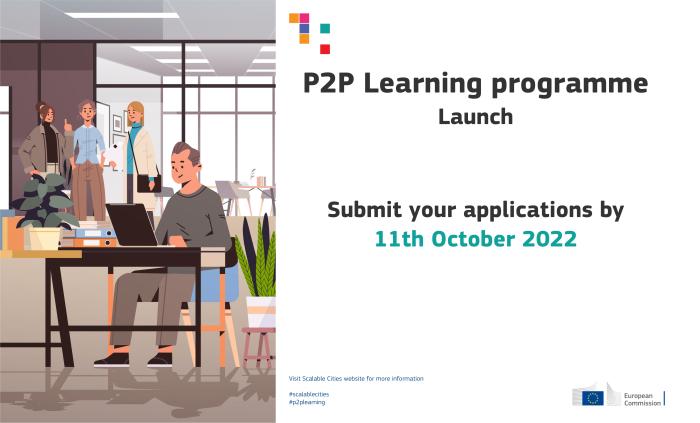 Dear Scalable Cities community!
We are happy to announce that Scalable Cities is launching its Peer-to-Peer (P2P) Learning programme on 1st of September 2022!
The activities of the P2P Learning programme offers cities a very flexible instrument to exchange knowledge on innovative approaches, and to support them in designing and replicating successful solutions. The P2P Learning programme consists of three types of activities that support direct exchanges between cities, and dialogues with experts from within and beyond the SCC community. The following activities can be requested and implemented at almost any time of the year:
Expert Reviews for expert feedback on strategic documents and plans;
Expert Missions for in-depth technical support through an on-site visit from relevant experts;
Site Visits for city representatives to share and learn about innovative solutions during a visit to a city involved in one of the EU-supported Smart Cities and Communities projects.
The first deadlines and cut-off dates for all three types of activities is the 11th October 2022.
Please visit the P2P Learning programme website to get more information and participate in the P2P activities!
For any questions and clarifications contact scalablecities@ait.ac.at.
We are looking forward to receiving your proposals! 
Scalable Cities Secretariat