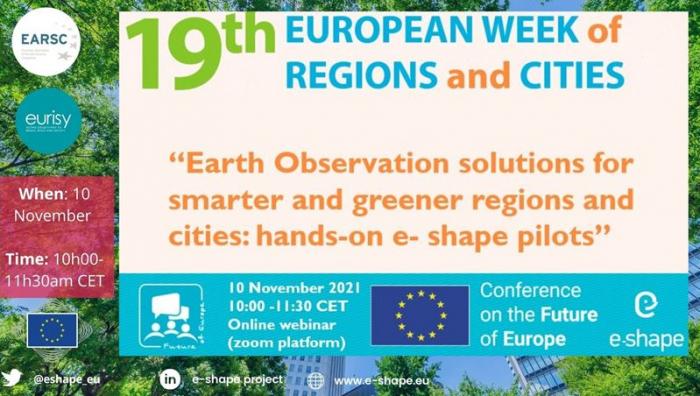 The workshop (to be held on November 10th at 10h00 CET, online) is an e-shape labeled event, the European Commission's Horizon2020 flagship project supporting the EuroGEO initiative demonstrating European EO capabilities applied to 7 showcases, including climate change, energy, ecosystems co developed with and for the users. The project's ultimate goals id to foster entrepreneurship and develop research to business activities.
The first part of the workshop will set the stage by introducing the audience to operational satellite applications, their uses and their benefits for regions and cities, with a particular focus on the issue of green energies, climate change mitigation and sustainable development and growth.
The second part of the workshop is devoted to the presentation of the coordinated approach to support research communities bringing their satellite-based solutions to serve policy makers and boosting innovation in the field of Sustainable Development Goals and environmental policies
The format foresees a Q&A and the end of the first part of the workshop and a discussion/Q&A/breakout-rooms at the end of the dual presentations to boost interaction and live engagement between the audience and the pilots through feedback useful to inject in the co-design methodology of the service development.
You can find more information and the workshop programme here. The registration is open via this link. 
Initiative
Related topics