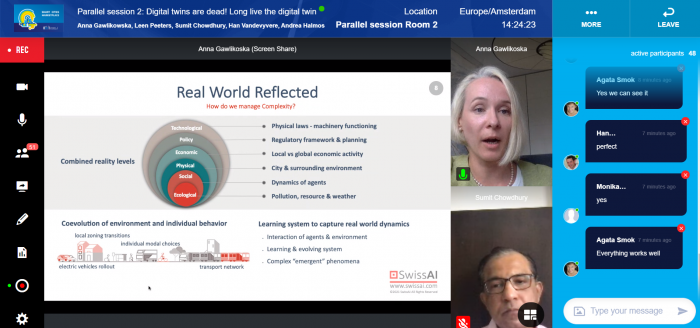 Digital twins are a hot topic. Urban or city digital twins are a virtual representation of a city's physical assets, using data, data analytics and machine learning to build simulation models that can be updated and changed (real-time) as their physical equivalents change. Today, cities invest in digital twins for specific elements, such as garbage collection or traffic management. This session dived into examples of multidisciplinary digital twins. Attention was paid to how they are set up, what they can deliver and how this supports the transition to a sustainable, energy and resource-efficient future city.
Visit this link to watch the recording.
Andrea Halmos, Policy Officer, DG Connect, European Commission, described the EC approach. She stated that technologies are a critical enabler for reaching the sustainability goals of the Green Deal. Additionally, and explained how AI, 5G, cloud and edge computing as well as IoT might accelerate the impact of policies to deal with climate change protecting the environment. 
Dr. Sumit D. Chowdhury, Chairman Gaia Smart Cities, India. Sumit, explained the challenges of cities as complex systems with many decision-makers, citizens, government and politics involved, stating the need to link models together and include reflective processes. He said that there is the need for a holarchy – the interaction between digital models across various digital twin models.
Dr. habil. Anna Gawlikowska of COO at Swiss AI AG, Switzerland stated that they can develop forecasts for scenarios using a holistic approach to digital twins. Anna described the challenges of cities' digitalisation such as limited scalability and sub-optimal policy as well as system planning. She explained the predictive approach of Swiss AI to reduce the risk attached to every scenario, therefore the risk of financing goes down.