The Innovate UK funded project Park and Charge started in October 2019 with the aim to use existing car parks in close proximity to residences of EV owners in order to provide them with Electric Vehicle Service Equipment (EVSE). Jason Warwick of Urban Integrated Ltd. spoke with IMET about the project and its promising key features. With 30% of households in the UK lacking access to off-street charging or home charging, this Park and Charge model is a considerable market opportunity.
What is the Park and Charge Project about?
Park and Charge provides an EV charging solution for the 40% of drivers who are unable to charge their EV at home, due to the lack of a private parking space. The Park and Charge solution aims to provide easy to use, state of the art chargers within a 5 minute walk from home, by utilising nearby car parks, in this case owned or operated by the local authorities in Oxfordshire. The scope of the project is to provide 280 EV charging bays (140 EV chargers with twin type 2 connectors) in hubs of up to 6 chargers with 2 bays per charger.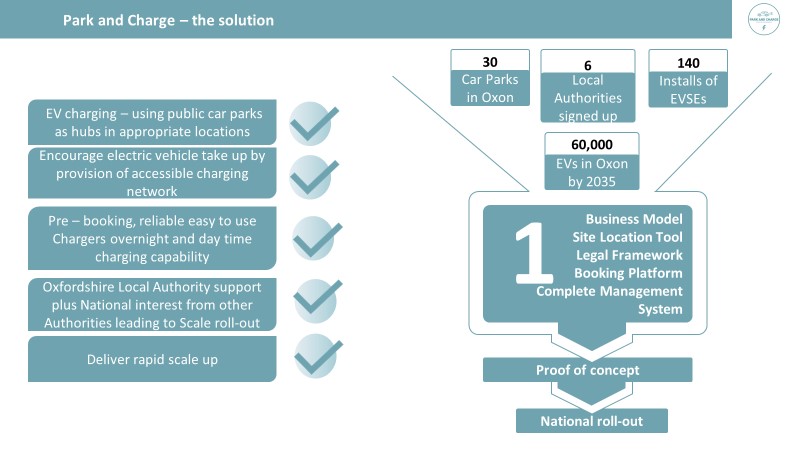 Key features include among other rapid 22 kWh EV chargers with highly reliable predictive maintenance features, a power phase balancing across multiple units (patent pending) and payment per Use via contactless payments. Furthermore, the app that was developed in the framework of this project is easy to use, allows non-complicated transactions and locates easily the parking parks where the EV user can charge the vehicle. The app was designed to support regular overnight charging users.
Apart from the app, we developed an advanced operations platform and dashboard providing an overview of charging estate for either the city or the operator of those parking parks.  The platform offers enhanced service management and service is being optimised including demand modelling and demand shaping. The platform enables, furthermore, a real time response to incidents and issue and applies the Open Charge Point Interface (OCPI), which allows for a scalable, automated roaming setup between Charge Point Operators and e-Mobility Service Providers. 
Other key features are an integrated parking pay management, subscription models and roaming support.
The Park and Charge project is delivered by an expert consortium including Zeta Lighting providing the EV charger, Urban Integrated providing the CPO platform and the eMSP app, Oxfordshire County Council facilitating the car parks & community engagement, the University of Oxford undertaking market analysis & research and the SSE providing the charger installation and energy network connections. The project started in late 2019 and will now finish in 2022 due to delays created by COVID19.
The Park and Charge model seems to be a considerable market opportunity. How do you plan to proceed with the rollout?
The development of a commercially sustainable business model is a key aim of Park and Charge, to support rapid scale up. The planned business model hinges on two revenue streams: On the one hand, regular overnight users who will use a subscription-based model and will enjoy premium features such as charger reservation and the lowest cost per kWh. On the other hand, visitors or ad-hoc users will enjoy fast and easy to use chargers with easy contactless payment but with a higher price per kWh. Visitors will be encouraged to become subscribers with incentives such as reduced fees for initial use. The creation of a significant regular use provides opportunities for demand shaping & revenue maximisation by encouraging charging when the buy price of energy is low. Another key component of the business model is the concession arrangement with the car park operators which needs to reflect on the investment balance between the car park owner/operator and Park and Charge.
Park and Charge has developed an important scale-up tool which will be of great interest to city policy makers – The EV Investment Calculator or EVIC. EVIC determines the role of specific car parks and generates an investment case. This is achieved by leveraging detailed research on EV demand by the University of Oxford with a range of datasets and advanced algorithms developed by the project partners. This demand model is then combined with an operational cost engine to determine the overall role of the car parks. Thus an investment case is created for the city, EV charging operators or investors. Our experience shows there is strong potential for suitable sites. Developed initially for Oxfordshire the tool is being developed for the whole of the UK by Q1 2021, followed by adaptation for Germany and we would be interested to develop it for other countries.