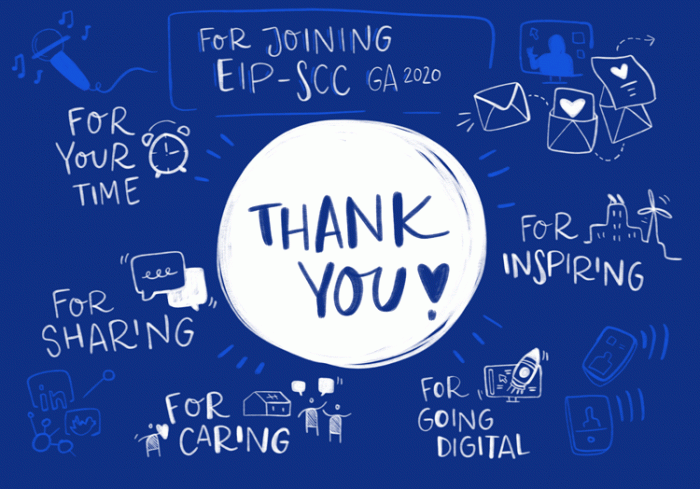 The General Assembly in a nutshell
More than 300 participants joined online
100 one-on-one networking meetings
20 sessions ranging from interviews to 3.5 hours workshops covering everything from data platforms to business models – with a total number of 70 speakers
Our Smart City Matchmakers received Smart City proposals at a total value of EUR 121 million
Nice to know or fun fact: Overall time people engaged in one-to-one meetings during the event: 1 day, 1 hour, 44 minutes & 37 seconds
Number of Lobby chats: 209
Explore Zone visits/total booth visits in Explore Zone: 382
Between Brno and Online
With the hybrid event, the Marketplace of the European Innovation Partnership on Smart Cities and Communities was also present in Brno, connecting with many inspiring Smart Cities from the region!
Find the livestream programme - EIP SCC General Assembly 2020 Day 1 02 09 20: https://youtu.be/Y3t7pPSdyJk and for EIP SCC General Assembly 2020 Day 2 03 09 20: https://youtu.be/Kb9E2Ebtx70
The first day of our General Assembly was opened by Kadri Simson, European Commissioner for Energy, who shared a keynote on the future of Smart Cities and Energy for Europe. Please find the video here.
Plenary – Beyond Covid-19 – EU Policies for Cities & the Future of the Marketplace  
Find the recording here:
Speakers:
Hans van Steen, Director, Directorate C – Renewables, Research and Innovation, Energy Efficiency, DG Energy
Petr Hladík, 1st Deputy Mayor of Brno
Karen Vancluysen, Secretary-General, Polis
Andreas Piontek, Energy Department, Projects Directorate, European Investment Bank
Dr Romana Jordan, Jožef Stefan Institute
Katharina Faradsch, Prospex (moderation)
Key findings of the sessions were:
EU Policies - Renovation Wave should be adopted in October. The Renovation Wave is instrumental for achieving carbon neutrality in Europe by 2050. Additional instruments are available such as the Recovery Plan, which is not yet fully adopted but endorsed now. Funding available is unprecedented: 750 billion Euro of investment. What are the needs? To have a holistic view at the entire energy economy is key. To exploit synergies whenever possible. There is the need for cross-sector cooperation. That is also where the EIP-SCC Marketplace can be of help! DG ENER works closely with DG MOVE and DG CONNECT to realise this. We need to replicate as much as we can in this window of opportunity.
Mobility - Peer to peer exchange and cooperation between cities is fundamental, shown at the example of mobility in cities. In the context of Covid-19 cities dealt with phase 1, which was the  lockdown first, cities were in the frontline to keep things moving. In the next phase it was even more important to 'deal with the new reality'. We saw how unfair division of space is in our cities in regards of the dominance of the car! That led to a massive reallocation of space and new opportunities. During the pandemic, things were done that were overdue: biking lanes, walking space, residential zones with reduced speed limit, repurposing parking spaces: give urban space back to the citizens.
Investment / Funding - The money is there, it is up to the cities to use it! COVID-19 showed how many things in cities do not work properly. If you work from home the quality of your residential situation becomes even more important! Investments must be very well prepared; proven long lasting impact is a must! The European Commission has tools for preparing investments in EE and sustainable urban mobility, one such tool is the Urban Mobility Indicators (find them here).
Sustainable Transformation - There are many organisational issues to solve and digitalisation should assist there. Processes and initiatives will be flexible to accommodate the needs of cities.
Plenary – Best Sustainable and Smart City Practices in the CEE – now and in the future
Find the recording here:
Speakers:
Filip Chvátal,  City of Brno, Council responsible for urban planning and development
Gábor Kerpel-Fronius, City of Budapest, Deputy Mayor of Smart City and Public Involvement
Raimond Tamm, City of Tartu, Deputy Mayor
Ulrich Hörning, City of Leipzig, Deputy Mayor
Katharina Faradsch, Prospex (moderation)
Key findings of the session were:
Smart City Energy Solutions: Demonstration & Replication in CEE
Find the recording here:
Speakers:
Jens Bartholmes, European Commission, DG Energy
Jaanus Tamm, City of Tartu, SCC-01 project SmartenCity
Adrian Raulea, City of Cluj-Napoca, SCC-01 project STARDUST
Sergio Olivero, Business & Finance Innovation Manager at Energy Center of The Politecnico di Torino
Peter Rathje, City of Sonderborg, SCC-01 project SmartenCity
Jiri Tencar, Municipality of Pisék, Energetics Specialist at Smart Pisek, SCC-01 project +CityxChange
Tudor Drambarean, Municipality of Alba Iulia, SCC-01 project +CityxChange
Joanna Tobolewicz, City of Gdansk, SCC-01 project Ruggedised
Judith Borsboom-van Beurden, EIP-SCC Marketplace team. moderation
Key findings of the session were:
Citizen engagement is acknowledged as of key importance

Many ambitions on smart and energy-efficient cities in Central and Eastern Europe, see Tartu and Cluj-Napoca. Mobility is an important key topic.

Panel discussion:

Political support is the key(?) condition for successful projects

Finance is also a problem, but a lesser one

Many plans in the pipeline

Ample new opportunities for funding and finance, not only from Horizon Europe but also from Green Deal and structural funds.

Action Cluster Sustainable Districts and Built Environment works on how to promote deep renovation and underlying business models and is happy to receive new members.
Smart City Finance & the Role of EIP-SCC in the Context of the COVID-19 Crisis
Find the recording here:
Speakers:
Georg Houben, European Commission, DG Energy
Kamil Dörfler, European Investment Bank, Senior Urban Specialist
Eduard Puig, GNE FINANCE, Cofounder and COO, member of the EIP-SCC Investor Network
Shirene Madani, Arcus Infrastructure Partners LLP, Investor member of the EIP-SCC Investor Network, Senior Investment Executive
Joana Andrade, EIP-SCC Marketplace, matchmaking specialist
Eelco Kruizinga, EIP-SCC Marketplace Team, matchmaking specialist, moderation
Key findings of the session were:
Decarbonisation, demographics and data explosion are trends that affect the portfolio of smart city investors.

Investors are looking for partnerships with municipalities and are looking at cities to contribute to de-risking their investments. Cities know their citizens, local issues & opportunities and can provide stability and long-term reliability that investors are seeking.

Cities need to put 'skin in the game' to ensure flow of private investment into smart city projects.

Investors are very interested in investing in smaller and medium-sized cities, but are welcoming aggregation of projects to reduce overhead. Bundling of projects allows for a positive risk and return picture.

Money is (still) not the issue, but good proposals continue to be relatively scarce. Expect that investors will have to adapt risk screening considering economic downturn and consequences for faltering paybacks.
From Replicators to Implementors
Find the recording here:
Speakers:
Han Vandevyvere, Project Coordinator, Smart Cities Information Systems (SCIS)
Loriana Paolucci, Isinnova, Replication Lead in RUGGEDISED
Martin Dvorak, Geographic information system (GIS) expert, Brno (RUGGEDISED).
Robert Spal, Geographic information system (GIS) expert, Brno (RUGGEDISED).
Dr. Jaroslav Klusák, Energy Manager, Litoměřice (STARDUST)
Daniel Cassolà, ISINNOVA (moderator in breakout)
Svetoslav Mihaylov, DG CONNECT (external expert)
This information session focused on data platforms and energy efficiency projects. It addressed challenges of the projects as well as the ingredients for successful project replication. It took place either online and live on-site at the Urbis Smart City Fair and was a SCIS roadshow with the aim to further promote the Smart Cities Information System.
Business Models for Effective Transitions
Find the recording here:
Speakers:
Rolf Bastiaanssen, BAXCo
Antoon Soete, cofounder, Wattson NV
Wouter Florizoone, City of Leuven, Project & product development manager
Soo-Jin Kim, OECD Centre for Entrepreneurship, SMEs, Regions and Cities, Head of the Urban Policies and Reviews Unit Cities, Urban Policies and Sustainable Development Division
Andreas Piontek, European Investment Bank, Energy Department, Energy Specialist
Katharina Faradsch, Prospex (moderation)
Key findings of the session were:
Telraam by Wouter Florizoone - presented the product that enables end-consumers to get a detailed view on traffic in their street. Data helps the local authorities getting a detailed overview that helps them to develop a mobility plan. So, you can see what happens in your area, local authorities can assess the impact of changes in the mobility plan. Outcome: Over 1000 devices have been installed so far.

ESCO by Antoon Soete - Wattson is an ESCO company, meaning Energy Performance Contracting.

As a typical case a retirement home is presented. Relighting was already done. But 30% more savings could be realized. Yet this is not interesting for ESCO: ESCO needs to address a full portfolio and use on an integrated approach (combine low hanging fruits with less financially interesting measures), think about insulation and use smart tenders.

Soo-Jin Kim, OECD Urban Policies Unit - policy advice to 36 countries. Her team helps cities and regions on the topic of smart cities. Almost every city they work with has a smart city program. The focus is generally on HOW, less on people and putting people back at the center. Smart cities solutions have recently been proven through COVID-19, though the economic impact is very diverse. The ability to use digital technologies will be a key asset for cities in the future.

Andreas Piontek, EIB project directorate on energy efficiency and renewable energy including the ELENA fund - is related to the technical preparation of investments, providing support to the pre-implementation phase. Today the effective investment in projects is 6.6 billion euro. It is a collaborative approach, no competition. Projects should have a certain maturity. The grant comes with the obligation for investment. ELENA is open to various entities.

Rolf Bastiaensen, Starke Energy - discussed a project in Rotterdam that include a large battery, considering different values and mainly self-consumption and trading. The project uses LiFePO and Rolf explains that it is integrated in the building energy management system. Rolf suggests considering energy services when making a business case.
Workshop on P2P Energy Platforms with POCITYF and SPARCS
In a thorough three-hour workshop, the SCC01 projects SPARCS and POCITYF, with support from several other projects, presented and discussed the latest on Peer 2 peer energy platforms. The discussions covered such topics as the importance of – and challenges with – citizen engagement and the regulatory barriers currently holding back the rollout of P2P energy platforms.
European Energy Awards for Smart and Climate-Neutral Cities
Find the recording here:
Speakers:
Georg Houben, European Commission, DG Energy
Dorin Beu, Romanian Green Building Council, moderation
Charlotte Sporndli, Association European Energy Award, moderation
Dragomir Tzanev, Executive Director EnEffect and representative Bulgarian Municipal Energy Efficiency Network EcoEnergy
Kristina Bozhkova, City of Sonderborg
Key findings of the session were:
Many commonalities between European Energy Award and Smart city projects in terms of trajectories, obstacles, opportunities.

Main obstacles: lack of long-term vision, which serves as a backbone, basic information on buildings is sometimes lacking, buy-in of stakeholders.

Interesting for smart cities is the structured EEA approach: providing technical assistance, appointing a municipal team, audits on the progress and quality of the plans, a set of tools adjusted to national contexts and regulations. Besides, the award creates a competition element.

EEA is interested in joint collaboration on tools and we proposed a concrete action for that: e.g. Cities4Zero, SCGP, EEA tools for developing this long-term vision, matchmaking possibilities (especially if a standardised approach can help to attract more investments).
Digital Transitions of Cities and Communities – What's next in the Post-Covid-Era? How to Justify Investments?
Find the recording here:
Speakers:
Svetoslav Mihaylov, European Commission, DG CNECT
Albert Engels, Project Coordinator Ruggedised, SCC01 data group
Martin Brynskov, Living-in.EU initiative
Ramon Ferri Tormo, CTO of Valencia
Bart De Lathouwer, OGC president and Espresso coordinator
Nadia Soultanova, Digitalization, Innovation and Economic Development, Sofia City Province, Bulgaria
Wrap Up – Smart City Outlook
Find the recording here: starting at 3:34
Speakers:
Georg Houben, European Commission, DG Energy
Luana Bidasca, European Commission, DG Move
Svetoslav Mihaylov, European Commission, DG CNECT
The Explore Zone
Our Explore Zone had over 300 visitors during the two days of the General Assembly. We showcased all EIP-SCC Marketplace Action Clusters and Initiatives as well as many H2020 funded Smart City Projects.  
Related topics