Border Cities Extend Cooperation into the Third Dimension to Improve Public Services and Connectivity in the Region
The MAHHL-Cities (Maastricht, Aachen, Hasselt, Heerlen, Liège) collectively join the Urban Air Mobility Initiative, supported by the European Commission, to address ever-challenging mobility problems of border cities.
Aachen, Centre Charlemagne: The "Urban Air Mobility" (UAM) Initiative of the European Innovation Partnership on Smart Cities and Communities (EIP-SCC) aims to accelerate practical application studies of drone and air taxi technologies and their consequent implementation. The initiative is led by Airbus and is supported by the European Commission, while institutional partners include Eurocontrol and the European Aviation Safety Agency (EASA). The EIP UAM initiative is founded on a city-centric approach with a diversified set of demonstration projects with engaged smart cities and regions. The target is to jointly develop, through horizontal cooperation of diverse mobility actors, concrete urban air mobility solutions (intra-city and inter-city mobility) with real impact by addressing established mobility needs of the specific cities.
Crossing multiple borders
For the citizens of the MAHHL-Cities (Maastricht, Aachen, Hasselt, Heerlen, Liège), satisfying mobility needs is often hampered by the many borders within the region. By joining the UAM initiative collectively, the MAHHL-Cities cross several of these borders at once. First and foremost, of course, they cross the existing border between urban mobility and air mobility. In addition, the borders between industry, science and society will be surpassed by the heterogeneous network of partners from all three countries involved, with a view to making this new technology efficient, safe and citizen-centred. Last but not least, the borders between the three countries shall be overcome with regard to developing integrated mobility solutions leveraging this new technology. A three-country-cooperation on urban air mobility including no less than five cities is unique across Europe.
As the Lord Mayor of Aachen, Marcel Philipp, expressed: "The national borders impede our citizens' mobility to this day. For example, using public transport across countries is still not as easy as within them. At the same time, being situated on the border of a country implies a lower connectivity regarding superregional airports compared to one's own national standards. Air taxis and drones offer new, innovative solutions, which we want to develop for our citizens in the MAHHL cities. We will involve the citizens intensively, get to know the wishes and duties and take them into account. Our border region will evolve step by step into a model location for new technologies."
Kick-Off for the Take-Off
As of today, September 24th 2018, the possibilities for urban air mobility for inner-European border cities will be explored by the MAHHL-Cities and their partners. In late June already, Willy Demeyer (Mayor of the City of Liège), Annemarie Penn-Te Strake (Mayor of the City of Maastricht), Emile Roemer (Acting Mayor of the City of Heerlen) and Nadja Vananroye (Mayor of the City of Hasselt) had signed the Manifesto of Intent, and were formally joined today by Mr Marcel Philipp (Lord Mayor of the City of Aachen) who signed along with Dr Vassilis Agouridas (EIP-SCC, UAM Initiative Leader; Airbus) in the presence of Mr Georg Houben (European Commission), Mr Stephan Zaß (Federal Ministry for Transport and Digital Infrastructure, Germany) and Dr. Dirk Günnewig (Ministry of Transport, North-Rhine-Westphalia) demonstrating the interest, institutional and political support at regional, national and supranational level of authorities.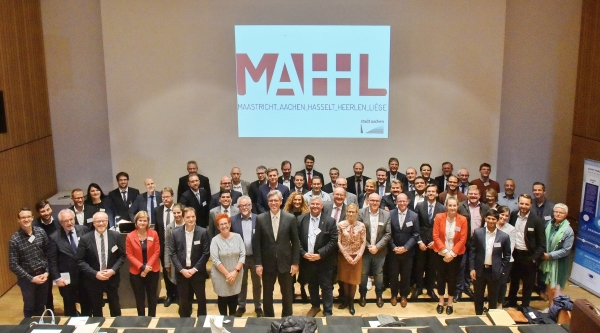 Further present signees included, amongst others, Ms Maria Algar-Ruiz (EASA), Dr Andreas Klöckner (Deutsches Zentrum für Luft- und Raumfahrt, DLR), Mr JC Robert Delhaye (Drone Think Do, EIP-SCC, UAM Initiative Ambassador in Belgium), Peter Asché (Uniklinik RWTH Aachen), Mr Markus Wellensiek (Air s.Pace GmbH), Prof. Dr. Peter Verkoulen (Brightlands Smart Services Campus), and Prof. Dr. Ansar Yasar (Transportation Research Institute (IMOB), University of Hasselt) as well as numerous cross border partners from public authorities, industry and science. Eurocontrol, the Federal Ministry for Transport and Digital Infrastructure from Germany, the Belgian Ministry of Transport, Civil Aviation Authority and Belgocontrol as well as the Dutch National Aerospace Laboratory (NLR) have expressed also their support.
Right before the official ceremony, the first steps towards project definition had been made in the context of a kick-off workshop. Working groups were created, where both various use cases, ranging from the medical sector to passenger transport, as well as common topics such as loading and landing opportunities, funding and regulatory matters will be discussed in detail soon. Thereby, feasible projects can shortly be identified and then selected in accordance with the MAHHL-Cities' priorities.
Initiative
Action cluster