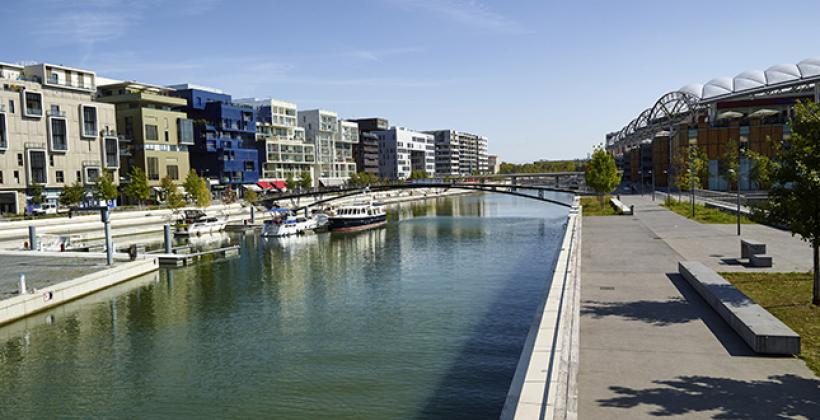 Description
Lyon is one of the lighthouse cities in the SMARTER TOGETHER project. The demonstration area in focus is Lyon-Confluence, one of the largest urban redevelopment projects in France (150 ha – 600 000 m² existing floor area – 1 million m² of new buildings) and an area of many urban innovations. With SMARTER TOGETHER, Lyon-Confluence heads towards zero-carbon objectives, which means that after the implementation phase the annual greenhouse gases emissions of the buildings must not be superior to the level of emissions at the beginning of the project, despite an increase in built area (1 000 000 m² of new constructions), population and activities in the area.
Demo Site Expected Impact
* Detailed information regarding the technical and financial performance will be available at a later stage.
With SMARTER TOGETHER, Lyon aims to:
refurbish 35 000 m2 of existing buildings to reduce their energy consumption;
develop local renewable energy generation: photovoltaic systems (1 MWp) and a wood-fired cogeneration power plant (2 MWe/4 MWth);
reduce the use of conventional cars by providing alternative means of transport for inhabitants: smart charging stands, an electric vehicle car-sharing system and an autonomous driverless electric shuttle;
feed the existing Grand Lyon smart data platform with news set of data to better monitor energy production and consumption in the area, and the actual effects and benefits of measures implemented to reach the zero-carbon objective;
involve citizens in the redevelopment of the Lyon Confluence area and the implementation of new services (creation of an urban living lab to allow citizens and users to co-design the smart city solutions);
increase the inhabitants' quality of life through the construction of comfortable and affordable dwellings and offices, convenient public spaces, easy access to the district, etc.
Technologies
Energy
* Detailed information regarding the technical and financial performance will be available at a later stage.
Some measures to be implemented in Lyon-Confluence within the SMARTER TOGETHER project are:
Energy efficiency in buildings
Retrofitting the building envelope

Reducing energy consumption by refurbishing an area of 35 000 m2 of existing buildings (private housing, social housing, office spaces and public buildings)
Energy systems integration
District heating and cooling

Renewable district heating
Cogeneration (CHP)

SMARTER TOGETHER includes the construction of a wood-gas fired cogeneration power plant of 2 MWe/4 MWth, connected to the district heating
Photovoltaics (PV)

Four photovoltaic systems are constructed to achieve a total power of approximately 1 MWp, which comes in addition to the 1 MWp of photovoltaic systems already existing in the Lyon-Confluence area.
Mobility & Transport
Clean fuels and fuelling infrastructure
Electric, hybrid and clean vehicles

Autonomous driverless electric shuttle

Car sharing

Electric vehicle car-sharing system
ICT
Building energy management system
Neighbourhood energy management system
Urban data platform

Provision of new sets of dynamic data to the Grand-Lyon data platform from the energy and sustainable mobility sector collected from various sources – smart power and heat meters, building energy management system, shared electric mobility services, energy production systems in the area, such as photovoltaic systems, and the district heating power plant plant - in order to monitor energy generation and consumption in the area and assess the actual energy performance of buildings
Contact
Organisation
SPL Lyon-Confluence
Email
evignali@lyon-confluence.fr
Building aspects
Building Energy Services
DHW (only)
Building Energy Services
heating (only)
Building Energy Services
heating and DHW
Building Energy Services
lighting and appliances
Installed Renewable Energy Sources
photovoltaic
Technology used to supply the buildings
boiler
Technology used to supply the buildings
district heating (DH) network
Technology used to supply the buildings
electrical equipment
Technology used to supply the buildings
electrical heating system
Technology used to supply the buildings
heat pump: compression
Energy Carriers
Domestic gas - grid-bound
Mobility Type of Intervention
Thematic Field
Energy System(s) Integration