In a joint session organised by the Covenant of Mayors (CoM), the Smart Cities Marketplace and SCALABLE CITIES offered an exchange of experiences and guidance for cities and stakeholders on their way towards sustainable energy and climate actions.
The session "Capturing alternative sources of funding & financing for sustainable energy and climate actions" was organised within the European Week of Regions and Cities. The aim was to focus on sharing political strategies, experiences and good practices on the one hand. On the other hand, it was to facilitate cooperation and networking, including contributions from the audience.
About 40 participants watched Moderator Georg Houben, Policy Officer, DG Energy, European Commission, set the scene by introducing the three initiatives and specifically the services of the Covenant of Mayors and the guidance activities provided to the CoM signatories.
The speakers of the session were:
Eelco Kruizinga, Senior principal consultant, DNV, financing expert at the Smart Cities Marketplace

Angelo Giordano, Senior Financial Strategist at CiviESCo I Scalable Cities Roadshow contact

Malvine Socaci, Deputy Mayor, City of Vulcan, Romania

Mari Hukkalainen, Senior Scientist, VTT, coordinator Smart City project SPARCS
Eelco Kruizinga presented the pillars of the Smart Cities Marketplace matchmaking under its Explore – Shape – Deal approach. It included – as an offer of the Marketplace – capacity building services such as Masterclasses showcasing how to improve project maturity levels. Another focal point of the matchmaking toolkit was set on how to tackle the challenges of alternative financing sources by making projects more interesting for investors of the Marketplace Investor Network.

Angelo Giordano introduced the services of Scalable Cities. He put the main focus on one of them: a roadshow format with 'Capacity building workshops'. SCALABLE CITIES aims to help cities to assess their portfolio in a harmonised way and to extract data with bankable indicators.

Deputy Mayor of the city of Vulcan, Malvine Socaci, presented how the municipality in collaboration with other cities of the Jiu Valley in Romania implemented the Green line project. It connects the region and cities in the valley with an electric bus infrastructure and options to charge electric cars.
In her summary she encouraged everyone that enters a green transition process to stay motivated and persistent even if challenges occur. This – from her point of view – is the only way to bring ambitious plans forward. Additionally, she emphasized that every region or city needs to find a project that is suitable for their specific characteristics and not simply copy an existing project plan as each entity has individual attributes.

Mari Hukkalainen, coordinator of the smart city project SPARCS, picked out some example cases within the project to present and introduce lessons from demonstrations to large scale energy transition in cities. Key observations were the following:
By having various demonstration sites and co-creation activities, the individual project partners can gain larger scale projects.

It is best to package neutral and interoperable use case descriptions.

There is a need for bold city visions for 2050 & urban transition roadmaps.

As well, there is a need for procurement innovation, tailored project development & implementation plans in cities.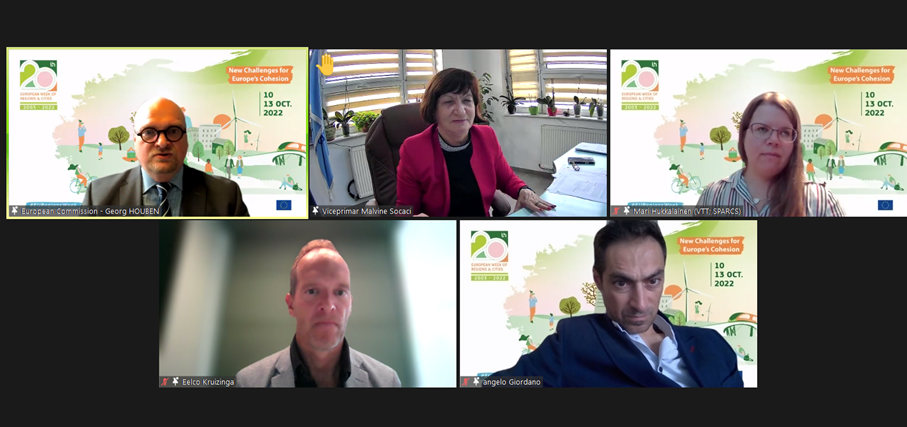 Other key take aways of the discussion after several questions from the audience were the following:
Deep commitment is needed from cities.

Collaboration of different city departments is required to enable large scale collaboration.

Expertise and capabilities within the cities are necessary even if it takes time to build them up.

Engage the political level with visits to existing demo sites.

Peer learning from others is important: the three initiatives are there to provide vast knowledge on several key topics.

A combination of public and private financing in projects is a key recommendation.

Do not only replicate what was realised somewhere else but consider characteristics of your specific region or city.