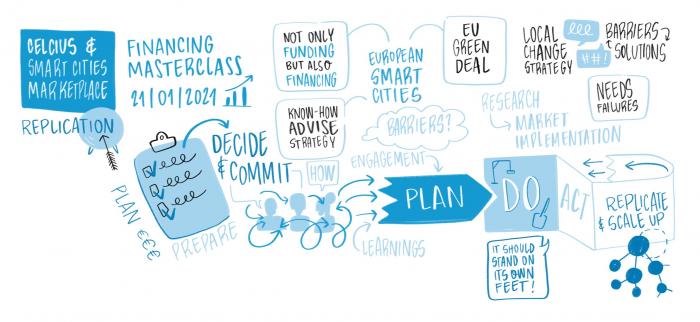 The first in a series of three masterclasses was held last week by the Smart Cities Marketplace in cooperations with the Celsius Initiative. It focuses on financing of District Energy Projects.
An exclusive group of 15 participants, selected by the Smart Cities Marketplace and the Celsius Initiative, joined the first day, in a series of three, Masterclass focused on the heating and cooling of buildings through District Energy. This first day was about looking in depth into specific projects, and exploring ideas. Gap analyses were performed to set the stage for the second and final Masterclass session. 
Jorge Rodrigues de Almeida, Matchmaker for the Smart Cities Marketplace, explains:
"There's no quick-fix for finding the right path for investment for any individual Smart City project, but working with a tailored approach through the Masterclass is certainly a valuable tool.  By inviting a small group of project developers and city representatives, we can take individual projects, build on their strengths and analyse their weaknesses and bring them closer to being bankable.,"
The first masterclass also included a detailed presentation of Smart City Guidance Package followed by a presentation from the City of Eeklo on their sustainability strategy in addition to the work on gap analyses. The second day will focus on financing, while the third and final workshop day will focus on each specific project idea and how to bring them forward.
Do you want to take part in a future Masterclass on new topics? Write an email to matchmaking@eu-smartcities.eu with the title 'Masterclass' to begin the process. Do include if you seek a Masterclass on a specific topic, such as 'mobility' 'PED', 'Urban data' or a suggestion of your choice.  
About the Masterclasses
The masterclasses are upon invitation only and target representatives of city administrations and smart city project developers. The classes are highly interactive and each participant's smart city project (portfolio) will play a central role in group work. Participants provide information on their project before the masterclass starts to allow an engaging dialogue between the wide range of experts taking part. 
Prior to each Masterclass, the organisers invite each participant for a 20 minute intake interview to develop an understanding of the local situation, context of the plan, overall ambitions and financing needs.