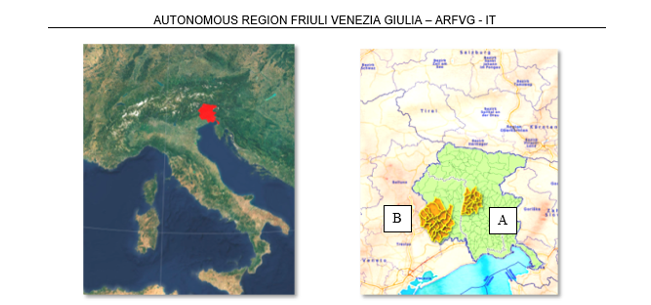 The program is developed by two significant homogeneous groups of municipalities in the ARFVG - Autonomous Region Friuli Venezia Giulia (North Eastern IT):
CLUSTER A: 15 municipalities involved in "Friuli Hills" (55,000 in.) are part of a voluntary public consortium which is a public body (CLUSTER A).

CLUSTER B: 18 municipalities involved in the "Pordenone plain" (250,000 in.) are organized in a cluster whose leader is municipality of San Quirino (CLUSTER B).
They represent a typical widespread urban area as well as rural, important from an economic, social and cultural point of view. Both clusters cooperate with the Energy Center of the Politecnico di Torino.
Common objective is to seize the opportunities and measures of Green Deal that Europe will put in place to transform the economy and society, directing it on a more sustainable and to support the transition needed in all sectors, starting with energy. While focusing on "Citizen Energy Communities", the two clusters intend to implement the European directives of the "Clean Energy Package", also through the creation of pilot sites and demonstrators.
As a first step, all the municipalities involved have recently signed a memorandum of understanding to promote the establishment of the "Oil Free Zone" (Italian law no. 221/2015) which provides for the progressive replacement of oil and of its derivatives with energies produced from renewable sources. This is a corollary to the establishment of the Energy Community of Citizens, as a new entity.
THE STEPS OF THE PROPOSAL ACTION PLAN IN TEN POINTS
Building knowledge, awareness, skills and experiences on Energy Transition.

Form and enable local territorial contexts of experimentation with the aim of providing the scientific community, local, regional and state authorities and regulatory bodies.

Activate innovative research projects aimed at sustainable energy transition, oriented to "give voice" to the territories, enhancing potential, opportunities and experiences.

Draw the "evolutionary scenarios and the vision" in their respective territories, the "objectives" to plan and achieve in the "Energy Transition" phase in the short, medium and long term; then indicate concrete proposals for "actions=projects".

Enable the institution of one or more non-profit legal bodies (Citizens Energy Communities) in implementation of Directive (EU) 2019/944, to allow citizens to organize themselves in the field energy, towards fairer access to the energy market.

Appropriate new forms of aggregation; innovative "governance" and "business models".

Build an energy transition narrative declined in several languages (technical, scientific, regulatory, financial, informative), in order to effectively achieve the broad range of "stakeholders".

Set up "working groups" among the members of the local community; between the communities involved at European level in order to develop cooperation and partnership projects, with a "bottom-up" approach.

Analyze and identify suitable "pilot sites"; launch initiatives that are already possible at the regulatory level and that can be planned and implemented right now.

Promote and carry out preliminary feasibility studies; immediately implement the knowledge of the territorial data so as to be ready to activate operational proposals in view of the transposition of the regulatory framework, for participation and creation of authoritative partnerships; new community programming 2021-2027.
THE "ENERGY COMMUNITY"
The "Energy Community" (Directive (EU) 2019/944 of 05 June 2019) that two clusters plan to build can be configured as a new subject, different from traditional operators: the economic returns must in fact be used to offer services and to bring socio-economic benefits to the local community; governance must be based on criteria of democratic participation, in order to maintain the autonomy of the energy community. Since this is a real paradigm shift, characterized by regulatory constraints that require extreme prudence in testing, it is necessary to analyze the possible evolutionary scenarios with scientific rigor, carrying out experiments and checks in pilot sites. So, it is essential to provide and enable new business models with advantages for consumers and for major changes in the organization and governance of energy utilities.
URBAN REGENERATION STRATEGY IN THE WIDESPREAD CITY
The obsolescence of buildings represents a serious challenge to achieve both energy saving objectives and the fight against climate change. This implies a multidisciplinary approach to combine the safeguarding of cultural heritage, respect for the past, orientation towards the future, quality of life for people, the fight against energy poverty.
The priority approach is devoted to the renovation of city districts and villages built in the '50s-'90s, but also the careful restoration of historical city centers will be considered. As part of a potential Energy Community of citizens, the energy efficiency in buildings (by innovative retrofit and renovation) associated with self-production and renewable energy storage systems, makes the flow of energy between the building and the network bidirectional and therefore enables new business models. Therefore, the existing "prosumer" buildings (public, residential, corporate, those that contain more equivalent housing units such as condominiums, hotels, accommodation facilities, etc.) represent a key element and a catalyst of the new business models to be tested. "Energy-driven" renovation can transform buildings into "smart buildings", capable of operating as "nodes" of an "energy community", with the active involvement of the various "territorial stakeholders".
IN EVIDENCE
The proposed program of two clusters in ARFVG aims at involving public authorities, citizens and especially investors, in a framework of cooperation. The purpose is to develop commercial and bankable initiatives, starting with the "retrofit" of buildings as "nodes" of an Energy Community: buildings become "smart" by incorporating a series of technologies (photovoltaic, micro-wind, geothermal, heat pumps, electrical storage, smart meters). This leads the territories in question, and those that will join, to become a large-scale "Oil Free Zone", creating new opportunities and a new awareness of the Communities towards sustainability and climate neutrality policies in the energy transition phase.
For local communities, living in a neighborhood or in a smart building, additional job opportunities to manage technology and reduce CO2 emissions through efficiency will arise. For investors, it means low risk and long-term investment opportunities, profitable activities based on economies of scale. This ambitious program aims to stimulate cooperation and the possibility of building solid partnerships between interested parties, public and private, as well as at European level.
Authors: M. Trevisan, G. Giugovaz, P. De Simon, S. Olivero
Action cluster
Related topics