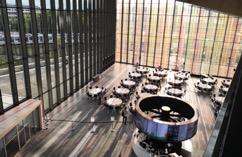 Credits: Lucija Rakocevic: photo of SwissTech Convension Center, EPFL Lausanne in Switzerland
Solution type
Solution booklets and thin books
Solar panels based on PV technology are well-known, easily applied and scalable to the energy needs, at least within the limits of the surface area that is made available. PV panels are mostly installed as PV systems placed on the ground, on water surfaces or applied to rooftops. PV installations added to an existing building and with a sole purpose of electricity generation are termed Building Applied PV systems or BAPV.
Building Integrated PV (BIPV) refers to a building construction element that produces electricity. BIPVs are installed as part of the building envelope, roof, façade or glass surfaces. BIPV can lead to synergies between energy efficiency and clean energy generation for deep building retrofits and new buildings.
While BIPV competitiveness thresholds are foreseen to be reached by 2025, expected cost reductions are as high as 47% by 2030. Taking these numbers into account, any city in Europe could start with BIPV implementation preparation today and have its first buildings in use in the coming years.