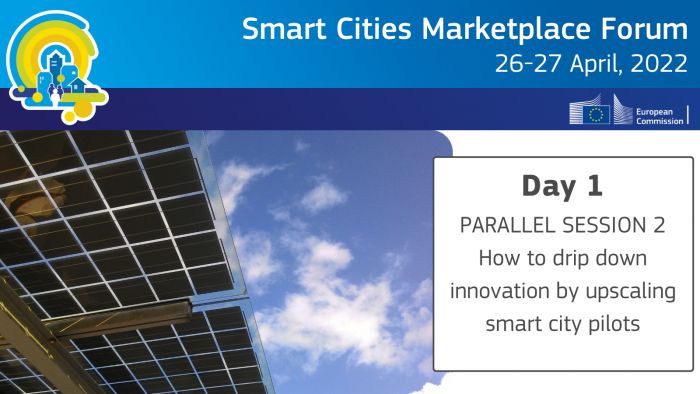 With the Netherlands Enterprise Agency
Speakers
Nancy Zikken - Trade developer Smart City · City of Amsterdam 

Robert Dijksterhuis - Sustainable Buildings Envoy · The Ministry of the Interior and Kingdom Relations of the Netherlands 

Bert van Renselaar - Business Director Energy Transition · Sweco 

Jeroen van Zwieten - Sobolt Moderation: 

Jacobine de Zwaan - Netherlands Enterprise Agency (RVO) 

Judith Borsboom van-Beurden - Director, Locality
After a brief introduction of the importance of innovation and understanding the different challenges on the road to creating smart cities, four pitches were made by the speakers representing four different perspectives on the energy transition in cities. 
One was the start-up Sobolt, explaining its journey from a small company in the area of AI. Jeroen van Zwieten raised one issue for the audience to consider: "should a small (29 people) company in the Netherlands take the EU approach or continue its very successful work on building a strong base in the Netherlands?
Another was the large consultancy SWECO, whose main work currently is combining the great levels of expertise accumulated in the different areas of urban knowledge into a greater whole. 
A third was the National perspective from the Netherlands, sharing a message of hope (we have the tools!). They were showcasing how the Government in the Netherlands is working with the knowledge and perspective that the green transition is a huge business opportunity, and the knowledge and tools - to a large degree - are already there. Finally, it was pointed out how National (and European) Governments should allow work to be "local when possible" and only national when necessary. 
Finally, on the city level, the City of Amsterdam joined to share how they are actively working on not just developing ecosystems but also ensuring the individual solutions are upscalable/exportable elsewhere. The potential in cities is immense, but there are still a lot of barriers. 
Some general conclusions can also be drawn in terms of joint challenges. Both governments and the private sector pointed to the challenge of staffing and the increasing price of materials as a challenge to be aware of in the future. 
Following the different perspectives, a thirty minutes role-playing exercise took place, with participants putting themselves in the situation of the different stakeholder groups when answering some of the "why and how" questions of Smart City developments.