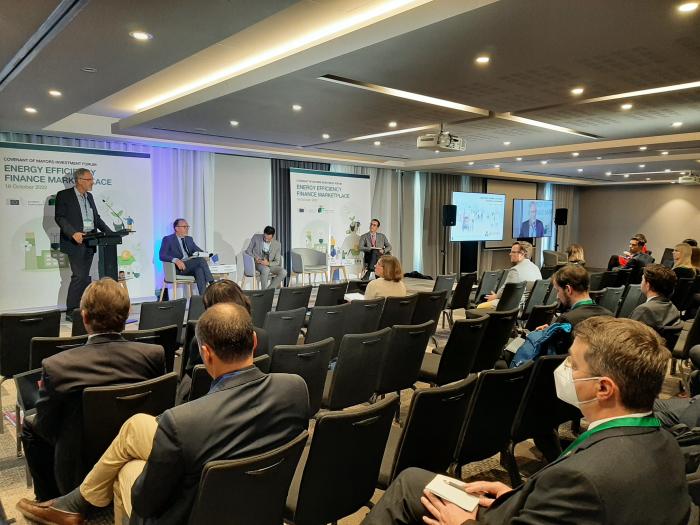 Does size really matter? Replicating smart city solution in small and mid-sized cities
On October 18, 16-17 CEST, a joined session of ATELIER, Scalable Cities, and the Smart Cities Marketplace took place at the Covenant of Mayors Investment Forum 2022. 
ATELIER is a five-year project funded by the European Commission that focuses on developing citizen-driven Positive Energy Districts (PEDs) in the two Lighthouse Cities Amsterdam and Bilbao. Their successful implementations will then be replicated and tested for feasibility in the six Fellow Cities Bratislava, Budapest, Copenhagen, Krakow, Matosinhos and Riga.
Moderator Hywel Jones gave a short introduction of innovation ateliers after which Rudy Rooth from the City of Amsterdam dove deeper into the topic. Angelo Giordano, Senior Financial Strategist at CiviESC, spoke about the challenges of building a positive energy neighbourhood. Luigi Lo Piparo, Technopolis Group Belgium, is the Smart Cities Marketplace Financing Expert. He contributed to the session by outlining the the SCM instruments and Matchmaking toolkit available to small and medium-sized cities and especially focused on financing opportunities.
Furthermore, the Smart Cities Marketplace had a stand at the event where people could come and talk about the Smart Cities Marketplace Matchmaking Activities and other services provided by the Marketplace.