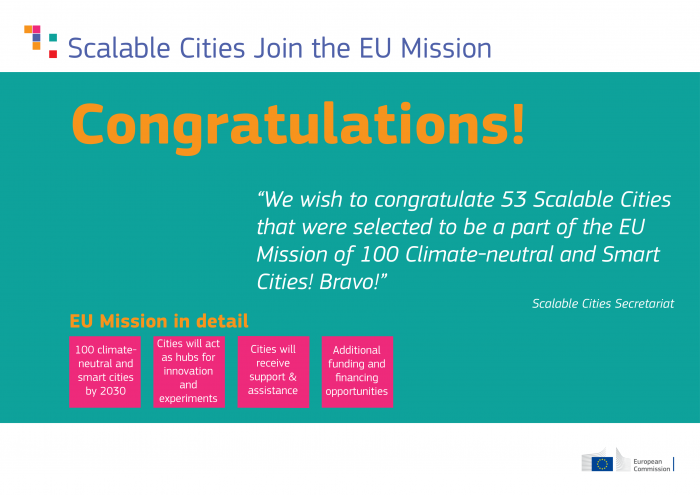 After careful considerations and deep analyses, a hundred cities have been selected for the Mission for Climate Neutral and Smart Cities to go on the path and become climate-neutral by 2030. With 53 coming from among the Scalable Cities community, the lighthouse projects and activities are proving to be a great launch pad for cities to develop climate-neutral goals and scale up smart innovations further!
We are delighted to note that among the 100 selected we see cities from every Member State, capitals, small, medium, large cities, frontrunners and less prepared cities. All will be working together to advance towards climate neutral goals and bring in their expertise to maximise and amplify the exchange of knowledge with other cities in the Scalable Cities network! 
In the coming months, we will boost our collaboration between all cities by strengthening the knowledge-sharing and mutual learning through our City Coordinators Group and the wider Scalable Cities network. This way, we will scale the impact of our work and accelerate the process towards a successful transition towards climate neutrality.
Next, Scalable Cities will meet at the event "Moving from solutions to system change" hosted by the IRIS Smart Cities project on the 1st and 2nd of June in Utrecht. Since 2014, a pioneering group of 120 cities have been working hard to deploy over 500 solutions in more than 20 countries through the European Smart Cities and Communities Lighthouse programme. Now, with 53 of them selected to build a greater part of the Cities Mission, they will meet to discuss the need of cities of all sizes to advance their transformation to climate-neutrality in 2050.
#EUmissions #MissionCities #ScalableCities
Amsterdam
Barcelona
Bordeaux
Bratislava
Bristol
Brussels
Budapest
Cluj-Napoca
Copenhagen
Cork
Dijon
Dresden
Eindhoven
Espoo
Firenze
Gabrovo
Glasgow
Göteborg
Groningen
Helsinki
Ioannina
Kadiköy
Kozani
Krakow
Leipzig
Lisboa
Lyon
Milano
Miskolc
Munchen
Nantes
Parma
Porto
Reykjavik
Riga
Rotterdam
Sofia
Sønderborg
Stavanger
Stockholm
Suceava
Tampere
Tartu
Trondheim
Turku 
Ujpest
Umea
Utrecht
Valencia
Valladolid
Vitoria/Gasteiz
Warsaw
Zaragoza