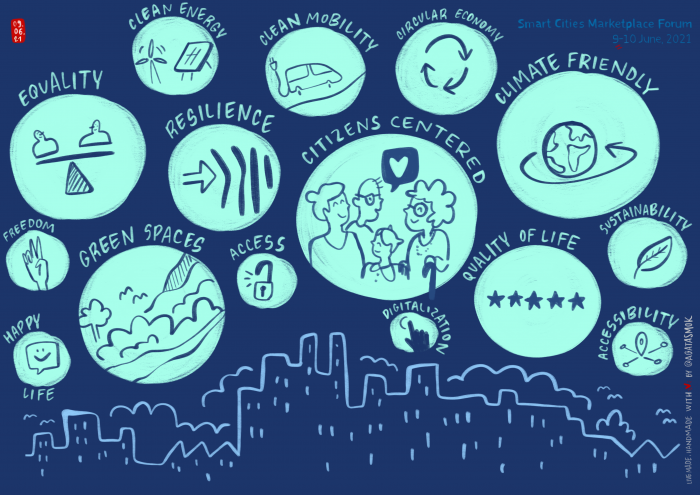 What is the purpose of a Smart City for you?
This parallel session showcased the experience of the first wave of the H2020 Smart Cities and Communities project family. It highlighted and presented their outcomes, especially the ones finishing in 2021, as a lead up to the common joint event. Then the "younger" projects reflected, reacted to that and provided their experience and input. Each project will have a "topical" question, drawing the line from the replicate session to the GA and the Lyon common event.
Visit this link to watch the recording.
Francisco Rodriguez (Tecnalia), project coordinator of SmartEnCity presented a teaser of the joint paper from the Smart Cities and Communities projects. The paper aims to share the experiences of the 18 SCC01 projects in the field of innovation technologies, mobility, ICT, energy, and citizen engagement. The paper will be published soon on the Smart Cities Marketplace website.
Nathan Pierce (London Gove) from SharingCities mentioned the importance of collaboration with the other SCC01 projects as well as the power and potential of the partnership approach for example when it comes to joint procurement.
Maxime Valentin (SPL Lyon) from Smarter Together stated that we need to learn from the process instead of the figures and technical reach. How do we implement projects quickly and efficiently?  
Elisabeth Jorge (San Sebastian) outlined, one of the most important things learned in Replicate  was to involve stakeholders from the beginning. She explained the importance to counter silo working in city administrations and the need to engage with the whole organisational structure.
Lisa Enarsson from GrowSmarter declared that there's an urgent need for political support and regulations to make change happen fast – she explains the need for bold decisions. Political backing, political decision making as well as an early plan on how to upscale the interventions from your Smart City projects are perceived as the key learning points.
The Triangulum project coordinator Trinidad Fernandez (Fraunhofer) advised the audience to be brave when planned interventions do not work or cannot be implemented as planned. She there will always be other opportunities to replace those that did not succeed.
Joao Formiga (City of Evora), representative of the POCITYF project, confirmed that the learning processes between the older Lighthouse projects and the newer ones like POCITYF are fundamental to the successful delivery of these projects. 
The discussion was rounded up by a short and inspiring presentation of the SCALE project.