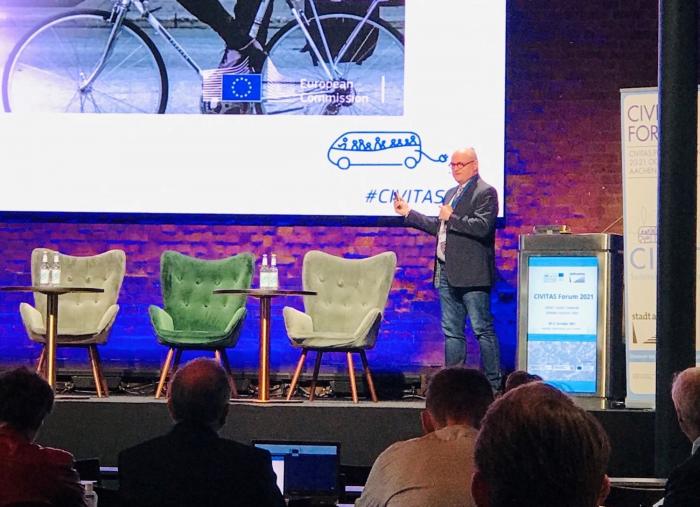 The Smart Cities Marketplace team made the most out of this year's CIVITAS Forum Conference 2021 – Discover smart routes towards climate-neutral cities that took place in a hybrid format: on-site in Aachen and online via an event platform. 
Prior to the actual conference (19 Oct) the Smart Cities Marketplace team organised a side event focusing on the mobility sector. During this event criteria for bankable projects and lessons including the Smart City Guidance Package was presented.  
Presenters of the session were (on-site and online):   
Georg Houben, Policy Officer DG Energy, European Commission (on-site) 
Edwin Mermans, Senior policy officer international affairs, Province of Noord-Brabant, Action Cluster member of Action Cluster Sustainable Urban Mobility (on-site) 

Eelco Kruizinga, Senior Principal Consultant, DNV, matchmaking expert Smart Cities Marketplace (on-site) 

Mark Andrews, Technical Lead Sustainable Energy, Amber Infrastructure Limited (online) 

Jorge Rodrigues de Almeida, Managing Director RdA Climate Solutions, matchmaking expert Smart Cities Marketplace (online)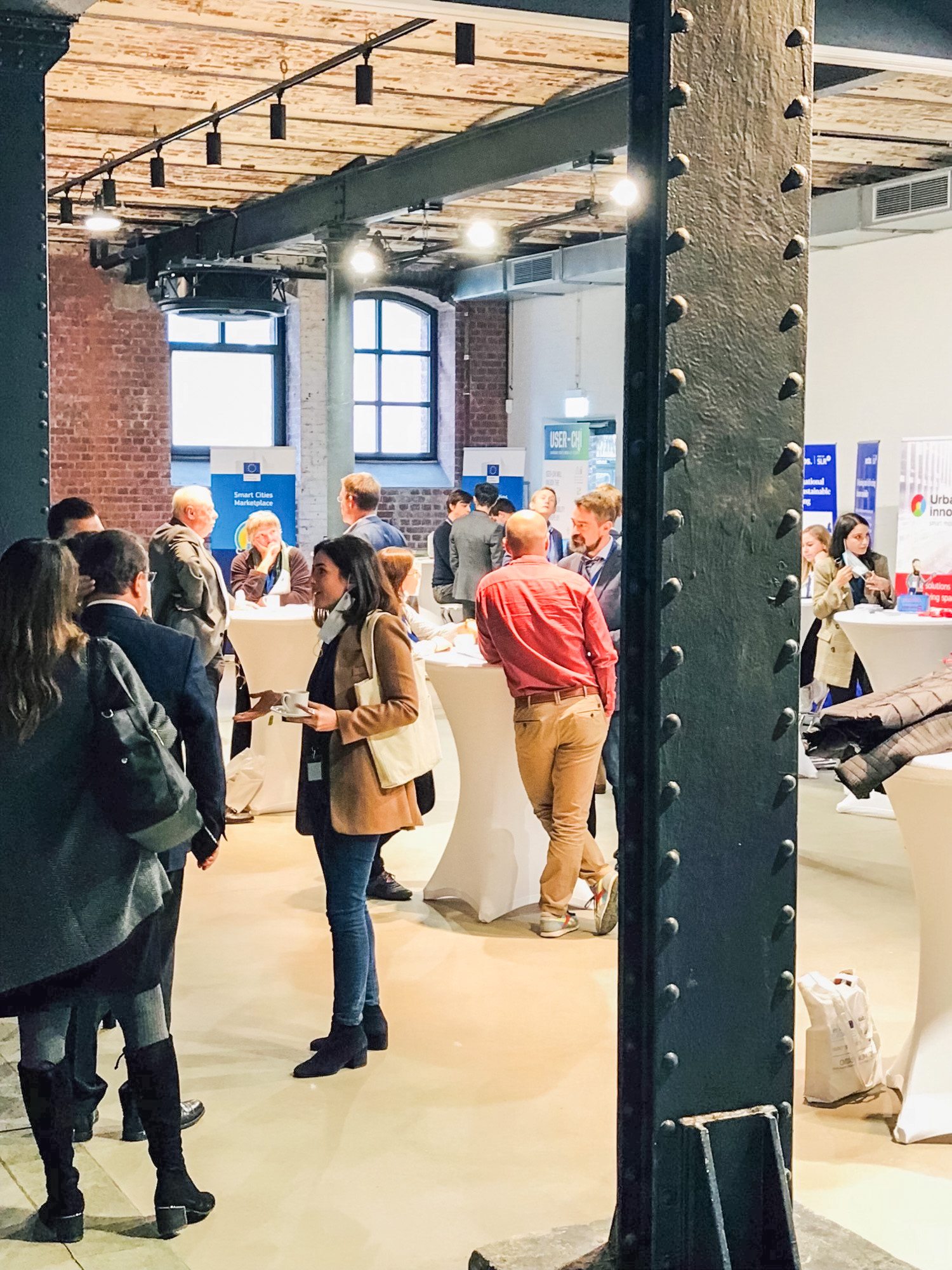 Findings and outcomes of the discussion where: 
• Over the ages, the fabric of European cities has been very much determined by the mobility requirements of its inhabitants and its visitors. This included that being smart about new mobility solutions not only means adapting engrained behaviours, but in many cases a rethink of our conceptions about physical city space. Therefore, a holistic approach is required, and this is what the Marketplace offers through its portfolio of best practices and research, multidisciplinary network of professionals and connections to the levels of finance required for making smart city visions a reality. 
• The Smart Cities Marketplace matched city, investor, entrepreneur, and research perspectives under a European umbrella. 
• Mobility and energy solutions combined are providing interesting opportunities for the Smart Cities Marketplace investor network, for example using vehicle-to-grid technology, thus both greening inner-city transport as well as helping to stabilize the grid. 
• Cities and investors are united in their conviction that citizens need to be involved in decision making early on to ensure lasting impact and lasting investment returns –virtual reality technology can play a key role in making smart city plans concrete for those who are to benefit from it. 
• Cities and regional authorities play a crucial role in early de-risking of innovative mobility solutions – this is recognized by investors who are keen to come in when such solutions are ready to scale. 
• The Smart Cities Marketplace is a key instrument to bring together the actors required to scale smart city solutions and is looking forward to receiving project concepts to feed into its investment funnel. 
Furthermore, the Smart Cities Marketplace offered online deal and matchmaking meetings (starting on 18 October and running until 29 October) with investors of the Smart Cities Marketplace investor network. There still is the opportunity to send us your project concepts via our intake form. Don't wait any longer and submit your idea using the easy-to-use form! Or contact the matchmaking team if you have questions via: matchmaking@eu-smartcities.eu 
But the Marketplace was also active at the CIVITAS Fresh Brain Conference – Powered by Youth on-site on 19 October 2021 with a presentation of the activities of the Smart Cities Marketplace and the upcoming Matchmaking activities by Georg Houben, Policy Officer, European Commission. As well as through another on-site speaker appointment of Georg Houben, Policy Officer, European Commission at CIVITAS Forum Conference for Session 10: Beyond funding – new initiatives and opportunities for synergies on 21 October.  
Last but not least, the team was present at the Explore Zone with an exhibition stand during the CIVITAS Forum on 20 and 21 October!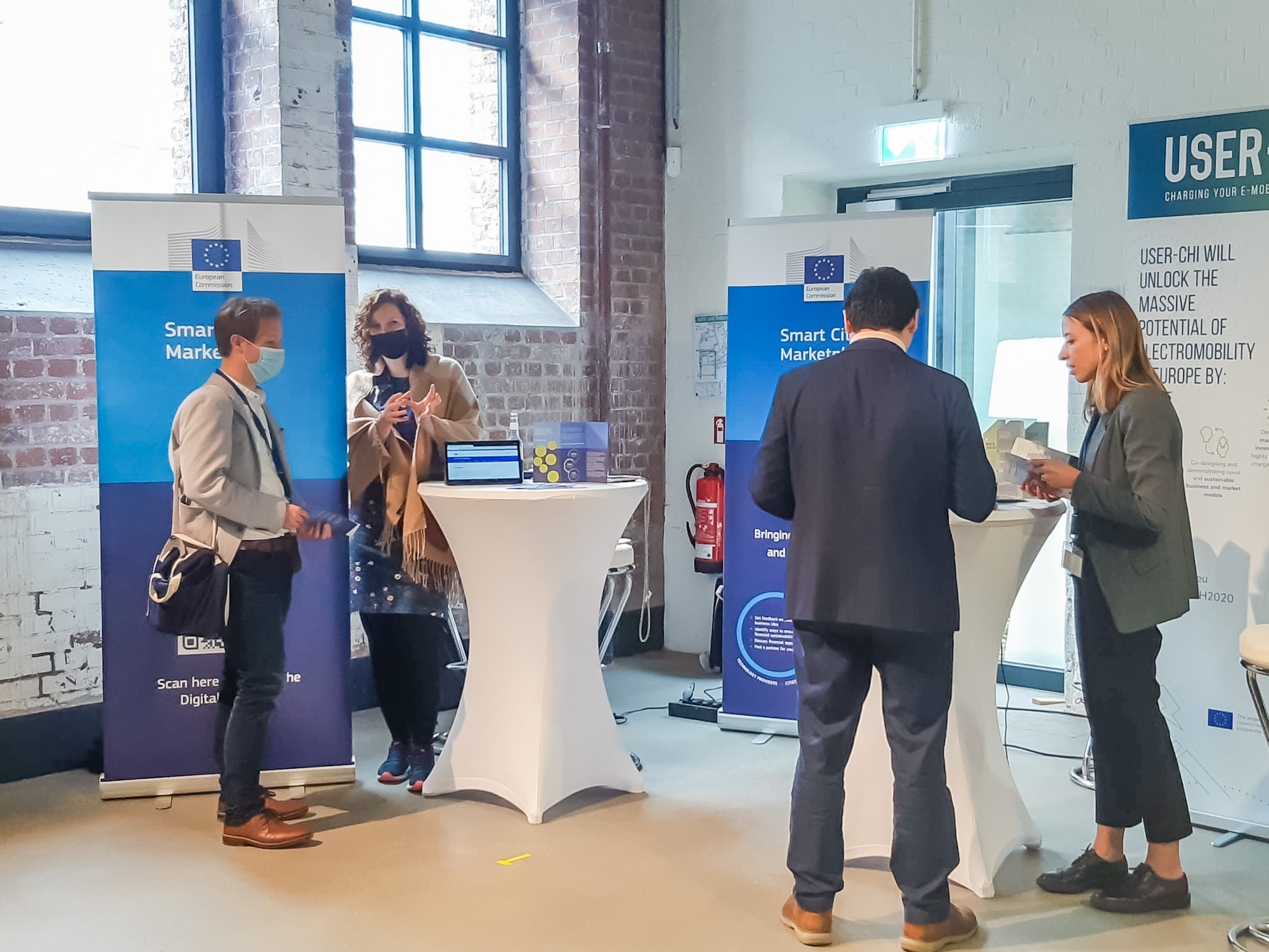 Related topics