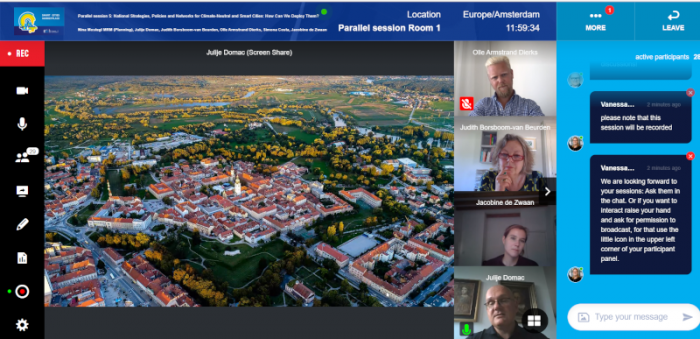 The Smart Cities Marketplace has traditionally worked mostly at the City-level and the European Level, but the National level is an essential player in reaching the ambitions of the European Green Deal. this session discussed how EU Member States play an important role in defining the context for planning and implementation of local climate-neutral and smart city solutions, for instance for legislative and regulatory frameworks, for innovation policies, for market conditions and capacity building.
Visit this link to watch the recording. 
"All the ingredients are there," Jacobine de Zwaan, Smart Cities Advisor, Netherlands Enterprise Agency & Lead Author of a recent Memorandum to the Dutch Ministers about Smart Cities, concluded about the Smart City approach taken in the Netherlands, where the Government is taking on the role of creating direction facilitate the efforts to create sustainable cities.
"A very important part of this work, and a core of our work at Viable Cities, is Climate City Contracts [2030]. We have Climate City Contracts with the nine [Viable Cities] cities to begin with, and hopefully more in the future, but also with governmental agencies," explained Olle Armstrand Dierks from the Swedish-led initiative Viable Cities about how they link the national and local level. Learn more about Viable Cities here: https://en.viablecities.se/
"What will be important is to combine smart city initiatives with other [Initiatives], for example, the new European Bauhaus Initiative. They are all very connected," said Julije Domac, Director of the REGEA Energy Agency in Croatia, President of Fedarene and member of the Covenant Board of Covenant of Mayors, before pointing out that the future should be digital, green and citizen-focused.
"There is a direct connection to the EU level through several different initiatives" explained Dr. Nina Mostegl, Consultant at MRM Planning, about how the Austrian authorities have worked with the Mission Board for Climate and Neutral Smart Cities and is engaged directly with other European fora on Smart City developments.