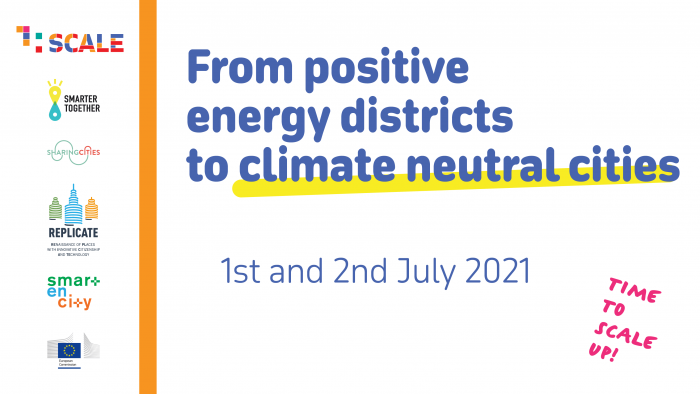 The first SCALE event, taking place on 1st and 2nd July 2021: From Positive Energy Districts to Climate Neutral Cities - Time to scale-up! was special as it was a Joint event of four H2020 Lighthouse smart city projects - Smarter Together, Replicate, Sharing Cities, SmartEnCity supported by SCALE. Organized in a hybrid model, being both virtual and physical, it also included the final conference of Smarter Together.
Two days, with participation from a number of senior representatives from projects, city governments, financiers, industry and the European Commission, were full of presentations, fruitful discussions, inspirational key notes, sharing of knowledge and joint recommendations.
During the 16 sessions, we showcased how to work together to get all Europe climate neutral by 2050, what kind of financing would be necessary for innovative projects, saw joint collaboration and took on board recommendations for replication of solutions in more and more cities in Europe. 
Knowing that working together is the key to a smart city, the 18 H2020 Smart Cities and Communities Lighthouse projects have signed a renewed Manifesto of Collaboration and dedicated themselves to scale up their pilots and help other cities implement innovative solutions in Europe.
Each project hosted their own thematic session broadcasted from their respective studios located in: 
Smarter Together Studio based in Lyon focused on The future of energy communities.
Replicate Studio based in San Sebastián focused on Smart districts.

Sharing Cities Studio based in London focused on Investment, accessing finance, and scaling-up.

SmartEnCity Studio based in Sonderborg focused on the ZEROcarbon Sonderborg by 2029.
The two day event was the first large event organized by the SCALE initiative. SCALE is a city-led initiative that provides large-scale, long-term support for the cities and projects involved in the H2020 Smart Cities and Communities Lighthouse Group (SCC-LG). SCALE was created with the aim to serve as a unifying element, networking and connecting all Lighthouse projects trying to improve the overall performance and enhance the significance of the SSC-LG Group.
If you were unable to attend any of the sessions you can visit our  YouTube account to also follow the discussions or to stay in touch with our activities and upcoming events on social media: Twitter or LinkedIn.