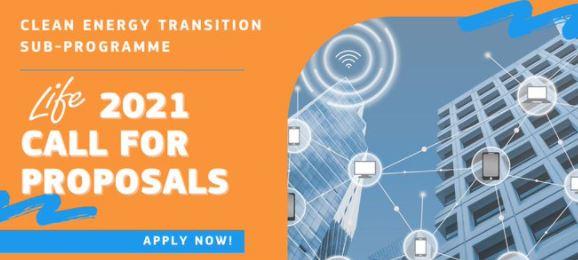 We would like to draw your attention to the funding opportunities under LIFE Clean Energy Transition to support projects accelerating investments energy efficiency and renewables. EUR 95 million are available in the next call for proposals, closing on 12 January 2022.
LIFE Clean Energy Transition continues the activities previously funded under Horizon 2020 Energy Efficiency, aiming at market uptake of existing and novel solutions including best practices.
CALL FOR PROPOSALS
Project ideas in the following areas can apply for financial support under the LIFE programme's Clean Energy Transition sub-programme:
More information on all 18 topics open for funding under the LIFE Clean Energy Transition Call for Proposals is available here. Proposals must be submitted by 12 January 2022 at 17:00 Brussels time.
Your project ideas can be supported with a 95% funding rate. All information about the LIFE Clean Energy Transition sub-programme, including how to apply for funding, is available on our dedicated Call for Proposals 2021 page, where you can also find  recordings of info sessions and additional guidance material such as tips to write an excellent proposal.  
If you have any additional questions please check out the Frequently Asked Questions or  contact CINEA-LIFE-CET@ec.europa.eu
CALL FOR EXPERTS
The European Commission appoints external experts to assist in the evaluation of grant applications and projects. If you have expertise in energy efficiency investment and finance, energy audits or energy governance, and you would like to become an external expert, please register in our database of independent experts.
Related topics