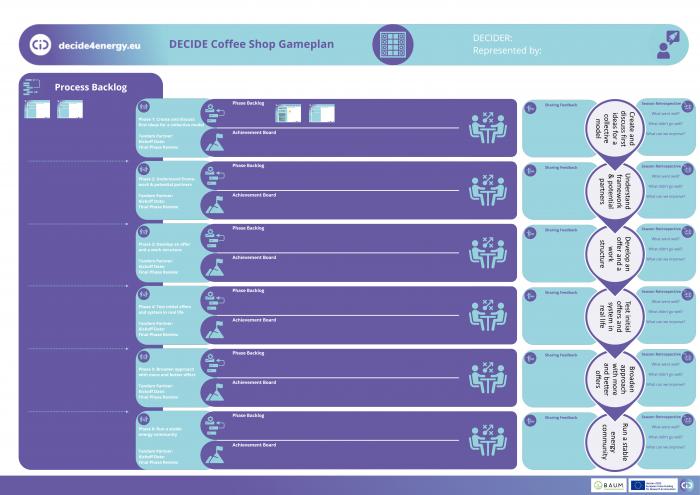 This mentorship format supports energy communities and collective actions to mutually benefit from their experiences. Read more about how it works and how you can get involved below!
DECIDE is a Horizon 2020 project that aims to gain a better understanding of how energy communities and energy efficiency services are established and managed. It also intends to identify which kind of communications and interactions work best to encourage participation in energy communities for specific types of individuals and groups, and to test and transfer knowledge in pilot projects across Europe. But how to make best use of the collective knowledge and support the rise of new players in the field?
Within the DECIDE project a newly designed mentorship format, the DECIDE Coffee Shop, was launched in July and August 2020. It is not only a great possibility for the participants to learn from each other but is also giving guidance through the development process of individual energy communities. Also, it is a great gateway and planning tool for all opportunities that come from the DECIDE Project, including the Knowledge Hub, the community, and events. The ultimate goal is to run more stable energy communities.
In close collaboration with the DECIDE project partners Th!nk E and ICLEI, the  team of B.A.U.M. Consult GmbH developed the format of an iterative exchange process which is structured on repeated sequences of events, along six phases. The repeating sequences are organized across 22 Months. The Coffee Shop approach is based on the idea to provide structure and predictability, but also agility and simplicity. Therefore, the Coffee Shop is building on three aspects, namely the people involved (and their respective Roles), gatherings in various settings (recurring Events) and an interactive and creative infrastructure (including a gameboard and activity cards) to work with (so-called Artefacts). The whole concept is described in a manual which gives guidance for all people involved. To make it dynamic and also viable even beyond the active funding phase of DECIDE, it is technically based on an easy to maintain virtual whiteboard platform, while also building on a community based, frugal long-term strategy.
Each cooperation season is designed around several events, starting with an official Phase Kickoff, where new activities are introduced and chosen to work with. Within the following period of twelve weeks several bilateral Synchros between Tandems (DECIDERs and pilots) are taking place to exchange on selected activities. In the end of each season a Season Retrospectives is scheduled in which Tandems reflect on their collaboration, followed by a Season Sharing with the whole Coffee Shop community to exchange on outcomes, to enable feedback and - as important - to network.
By being an active member in the Coffee Shop Community, one can
Get expert support from DECIDE partners to set-up and run a stable community

Benefit from the experiences and knowledge of like-minded Coffee Shop companions
Participate in DECIDE capacity building events, based on one's individual needs

Promote one's efforts to the Europe-wide DECIDE community
For any questions or if you are interested to join the DECIDE Coffee Shop to make your energy community even more successful, please reach out to Kilian Karg and Franziska Wirth from B.A.U.M. Consult via info@decide4energy.eu
Find here information on the first call for DECIDERs and further information on the Coffee Shop behind this link
Stay updated by following #DECIDE4energy and @decide4energy
Related topics