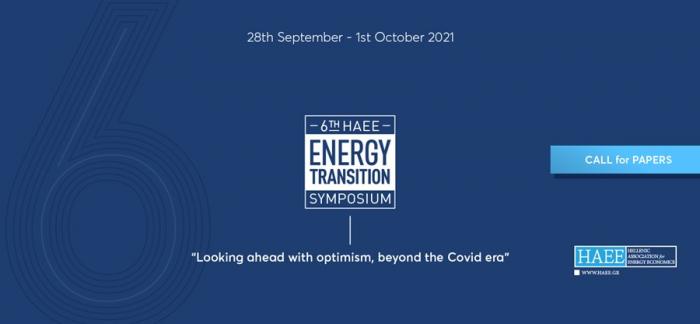 The 6th Energy Transition Symposium "Looking Ahead with Optimism, Beyond the Covid Era", will be held from Tuesday, 28 September to Friday, 1 October 2021. For yet another year, the annual Symposium will serve as an open-dialogue platform, where state, academia and private sector representatives will contribute to debates and exchange of views on crucial energy matters.

Considering the extraordinary circumstances of 2020, the 6th Symposium will inevitably focus on the turbulences caused by the Covid-19 pandemic and its prints on the global energy system.

Call for Papers

The HAEE Energy Transition Symposium is the premier forum for the presentation of new advances and research results in the energy sector. The conference provides the ideal opportunity for academicians, researchers, managers, industrial participants and students to share their research findings with global experts.

We encourage all interested parties to join the Symposium and submit their original, high-quality research.

The list of topics to be addressed includes, but is not limited to: 

Energy Transition

- How can countries prepare for the new era of the global energy transition?
- Policies and measures towards a Europe Energy Roadmap to 2050

Energy and Environment

- Environmental laws and barriers for their enforcement
- Global and EU climate policy and emission trading schemes
- Mitigation and adaptation measures for global and regional environmental challenges
- Covid-19 on the global Energy Market

Energy Efficiency & Sustainability in Buildings

- Challenges, investment opportunities and technological innovations in the energy sector
- Challenges investment opportunities and technological innovations in the industrial sector for the transition to a low-carbon economy
- Energy efficiency in buildings: EU and regional approaches
- Smart cities and their role to emerging energy technologies and consumers' behavior
- Smart meters and technologically advanced electricity grid options
- Smart electricity grids

Renewable Energy Sources

- Renewables' penetration in the electricity mix
- Energy storage developments
- Renewable Energy economics
- Circular Economy
- Behavioral Energy Economics

Transportation and e-mobility

- Electric vehicles and the future of green transportation
- Ports and airports as energy hubs and prosumers

Geopolitics of energy and implications for SE Europe

- Regional energy supply and security
- LNG and shale gas: security of supply and potential market developments
- Regional geopolitical uncertainty and challenges in gas supply and transportation

Submission Procedure

Authors should firstly create an account, give the basic details on their paper (title, key words, authors and paper presenter) and upload their initial contribution (abstract). Submitted abstracts should be no more than two pages in length, comprising i. overview, ii. methodological approach, iii. results, iv. discussion and conclusions. All abstracts will be reviewed and evaluated by the Symposium's scientific committee based on originality, accuracy and relevance to the topics of the call. The authors will be notified by e-mail.

In case an abstract is accepted, authors can complete the registration process here, buying their ticket. The registration fees are listed in the table below.

Submission of full papers is not obligatory unless the author(s) intends to participate in publication options proposed by the scientific committee.

Key Dates and Deadlines

Early bird abstracts' submissions: June 11, 2021

Abstracts' submission deadline: July 5, 2021

Notification of abstract acceptance: July 19, 2021

Submission of full papers: August 20, 2021

Symposium's registration fees should be paid by September 3, 2021

 

Click here for more information.