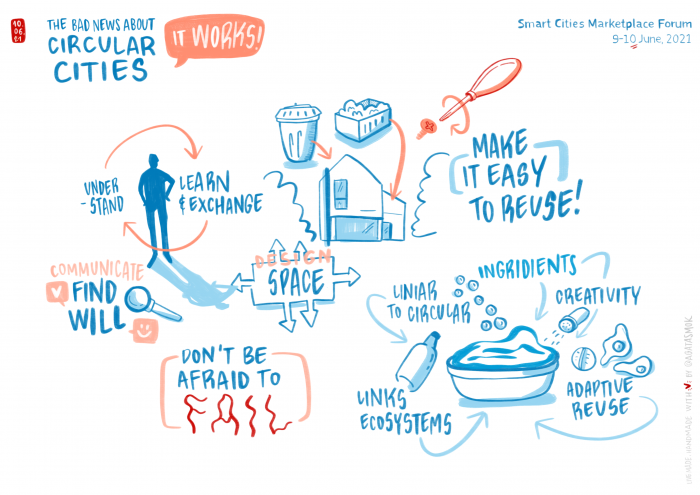 This session aimed to present specific examples of circular system solutions implemented in cities across Europe, discussing the main barriers and opportunities. Moreover, we focused on how city governments should organise to overcome challenges to implementation and foster a sustainable and circular economy in sectors like construction, food, waste management, plastics, and textile. The speakers highlighted the importance of an interdisciplinary approach.
Visit this link to watch the recording.
Marie Yeroyanni, DG RTD, European Commission, explained how cities are at the heart of the Green Deal and the need to take our cities to the next level to achieve the EU Green Deal target. This includes the systemic transformation of our cities to engage city makers as co-creators. To ensure this holistic approach and reach the target of 100 climate neutral cities and for the EU to become climate neutral by 2030, city synergies need to be re-invented to become circular cities. 
Emanuela De Menna, European Research Executive Agency, European Commission, presented some concrete examples for circular economy projects like, for example, the
Reflow project (happening in cities, with a wide variety of stakeholders). It aims to transform the urban metabolism in cities. Each pilot focuses on a different flow such as circular plastics, fairs, and waste heat – moving from linear to circular thinking and changing behaviour.
Sarah O'Carroll, Cities Lead, Ellen MacArthur Foundation, shared a presentation with examples on how cities can move towards a circular economy. She also pointed the their dedicated resources for circularity in cities. 
 
Zala Strojin Bozic, Manager for Circular Economy in the Department of Environmental Protection, City of Ljubljana, Slovenia, claimed that learning from each other and other cities is key to a successful circular economy strategy. Ljubljana is putting a big emphasis on circularity and the improvement of the quality of life for citizens.
Greg Keeffe, Professor of Architecture, Head of School of Natural and Built Environment, Queens University, Belfast, described the process and the problems he encountered while building his home with waste materials he found partly in skips.